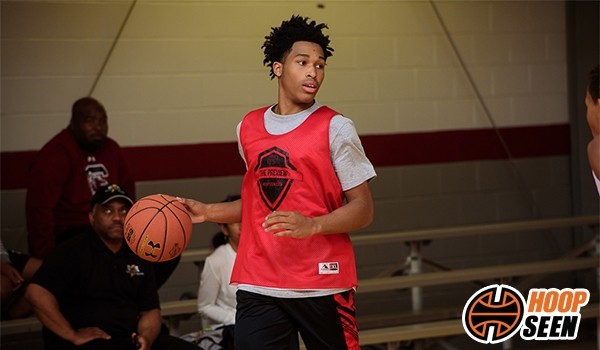 We had a full day of hoops at the 2015 Fall Preview and will spend the next two weeks unloading player evaluations from the camp. We'll go team by team and unload our notes from our staff. Today we dive deep into Team 11. 
Travis Anderson, East Jackson, PG, 2018: Coach Winston Neal called him one of the four best young (FR/SOPH) guards in the camp. Why? Because he's what you want to see in a point guard. Passing mattered more than scoring. Protecting the ball mattered more than the "highlight". Talking and communicating meant more than running his mouth to the competition. He's fast, smart and tough. Would like to see his jumper develop into a more consistent weapon. 
Justin Lee, Collins Hill, SF, 2018: The buzz from our staff was this - he could be really good in time. He's long (6-5/150) and covers a lot of ground on the wing. His size is his most intriguing attribute and because of that we not entirely sure to see what direction he goes as far as position is concerned. There's no doubt that he's much more of a long-term guy rather than a here-and-now guy. 
Justin Longstreet, Columbia, SG, 2016: One of the better shooters at the camp, Longstreet found his moments to let the leather fly. He was the beneficiary of good guards and balanced interior attack so his looks were clean. Columbia is always home to a senior season stud and the long 6-foot-3 guard will certainly be called upon to let it fly from deep. A guy for the non Division I schools to watch. 
Christian Pasley, Lanier, PG, 2018: Good strength with this young guard and that translated well in two phases: 1. aggressively defended with physicality and 2. scored in traffic. 
Bryce Smith, McEachern, PF, 2016: Always looking to attack the rim, the athletic 6-foot-7 forward was one of the camp's biggest interior bullies. He was as strong as any player there was at the camp and played like it. Athletically, he's above the average and he does his best to play at or above the rim. Coach Winston Neal called him one of the four best rebounders in the camp. The lefty forward still needs to work on his jumper in order to be an effective pick and pop forward. There is natural ability here to work with to become a really good college prospect. 
Daniel Terry, Harlem, PG, 2018: Speedy guard that gets low into his man on defense. Conversely, he gets low with his dribble and crept into spaces on the offensive end. Needs to add strength. 
Fre'drick Thomas, Dublin, SF, 2016: A big wing (6-2/185) that did his best work around the cup on both sides of the ball. He's a physical competitor. 
Desmond Webb, Carrollton, SG, 2016: For schools looking for a senior year sleeper, Webb might be that guy. He's a dynamic scorer and we saw him go off this summer on the travel circuit. He is a great driver, a confident slasher and knows how to free himself up for screens and open shots. The IQ is there to develop into a go-to guy at the next level. The 6-foot-4 guard has good ball skills and is a solid defender. Continued skill development will do wonders for his recruitment. 
Evaluations come from a collection our staff of 12 coaches, four HoopSeen.com writers and two on-staff college coaches.