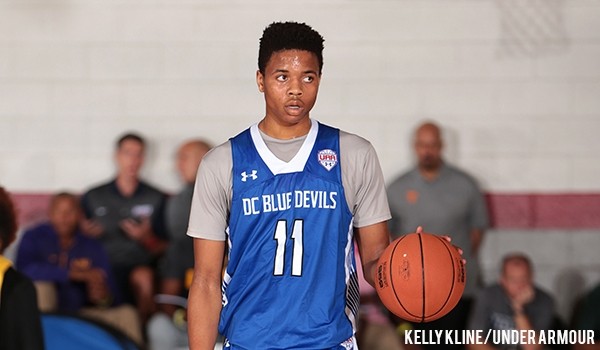 This time, two years ago, not many knew much about Markelle Fultz. The 6-foot-4 guard, then standing around 6-foot-1, was entering his sophomore campaign as a guard on the DeMatha Catholic junior varsity team. Flash forward to the current moment, and Fultz has a good chance of becoming a McDonald's All-American come next spring.
The past 16 months are Hollywood story worthy with how quickly the Maryland native has evolved, but it all traced back to the words he spoke to his travel season coach Keith Williams, that displayed how hungry and driven Fultz really was. "Two years ago he told me and his high school coach that he wanted to be the number one player in the country. At the time, I told him that with who I know, we are going to have the opportunity, just knowing the player he is. Funny enough, a lot of times, whatever he puts his mind to, he gets."
"Last year, he said wanted to commit on ESPN and have the hats on the table. I laughed at him but now, he pretty much is getting that."
Getting it he is as, on Friday evening in the city that is desperately yearning for a professional basketball team to cheer for, Fultz shocked many in front of a national audience on ESPNU, by committing to the University of Washington. While programs like Louisville, Kentucky, Arizona, and UNC all entered the fray, it was the loyal character that Fultz stuck to that drove him to his final decision. "Coming down the stretch, Markelle hasn't changed and the schools that have been coming down the line originally have always been Miami, Maryland, Xavier, and UW. He pretty much stayed locked in on the original schools."
However, why not choose a program like Xavier, Maryland, or Miami, or better yet, such blueblood programs like the two down in the state of Kentucky, or Arizona? "No knock on any other coach because all of them did a great job but Romar's honest and while we didn't know him a lot, we did know the quality person that he and Coach Chillious were, and the comfort really resonated with him."
While Washington was the second high-major program to offer Fultz last September, Williams spoke very highly of assistant coach Raphael Chillious, their relationship, and his willingness to attend every game of his during the travel circuit this past summer. While some sold the DC Blue Devils guard on being a two guard or a combo, the Pac 12 program remained steadfast on Fultz being its lead guard in 2016, which is the place that Williams believes best serves him. "He is a point guard first. He is going to bring a lot of leadership and he plays the game the right way. He is a better point guard than a 2-guard."
Our number seven ranked player within our 2016 rankings, Fultz hasn't even scratched his potential. After having averaged close to 18 points, five rebounds, three assists, and two steals per game on the Under Armour circuit this past spring and summer, Williams spoke on where Fultz can be and what his ceiling might be. "I don't think he is anywhere near his ceiling. He isn't the greatest jump shooter right now and he has moments where he can coast."
"He has the chance to be the number one pick if he gets strong, doesn't have lulls in play, and once he locks in, the sky is the limit."
With a loaded crop of freshmen that are about to leave giant fingerprints on the Washington program this fall, it would seem no one will have as good of a chance to leave a lasting mark come the 2016 season than Fultz in keeping in mind how quickly he has developed, his giant ceiling of talent, and the giant opportunity for the DeMatha guard to contribute within the Pac 12 program come next winter.