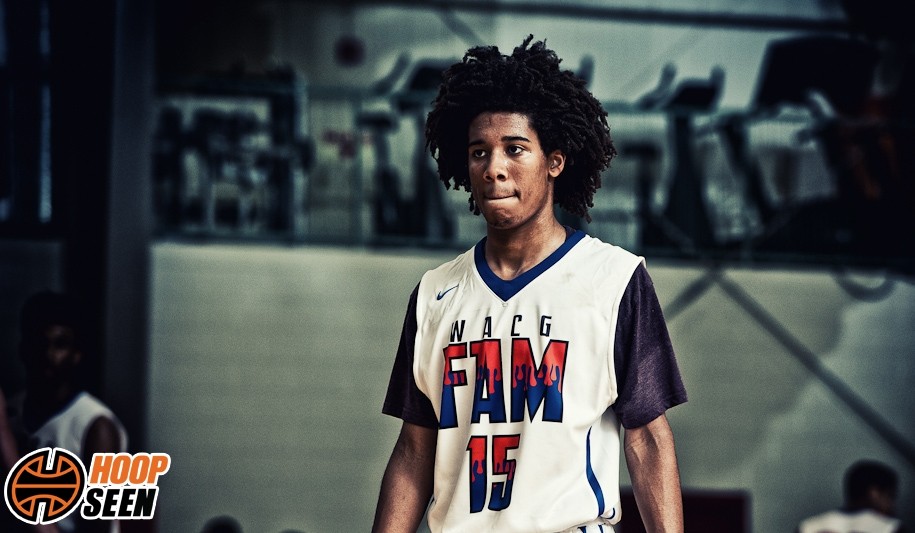 WINSTON-SALEM, NC - As we continue our look at the CP3 Rising Stars camp, Justin Young unloads his notebook from the class of 2019 All-American style camp. These six guys jumped off the notes and played their way into the conversation. 
Armando Bacot, PF/C, Trinity ES (VA): From block to block, there weren't a lot of players that understood how to play the post better than him. Bacot used his huge frame to seal off defenders and take good entry passes right to the rim for scores. He's hard to move and has good footwork down low. Offensively, he's quite advanced for a young post. Once he continues to grow into his body and slims down and tones out, we could be looking at one of the best young post players in the country. 
Tyger Campbell, PG, La Lumiere (IN): If setting teammates up for good shots, creating opportunities with the dribble and sewing a roster of players that aren't that familiar with each other together is important than Campbell nailed his responsibility at camp. Already a guy with a big national reputation, Campbell shined in the setting and proved himself as the top point guard over the weekend. (pictured above)
Nobel Days, PF/C, Park (WI): One of the best big men in the camp, the long-armed post was a do-everything paint player. Defensively, he was quick to block shots, protect the helpside and grab rebounds at a steady pace. Offensively, Days did what you want big men to do - score the simple buckets. In drill work, he was extremely coachable and adapted to what was being instructed. As a teammate, he was a positive and vocal leader. There is a lot to like about Days as a prospect and those who interacted with him backed up that opinion. High ceiling guy for high-major programs to chart. 
PJ Fuller, SG, Garfield (WA): The Seattle area has long produced high-level scorers and judging by what we saw from Fuller in this setting, it looks like the Emerald City has another stud laying in wait. There is a lot of Malin Monk to his game - meaning tons of athleticism and a propensity for scoring on the wing. Fuller is not afraid of a shot and will rack up a number of highlight reels over the years. He's a fun prospect to watch and blends a mixture of hoop smarts and top line athleticism. Fuller didn't disappoint all weekend long. 
Chandler Lawson, WF/PF, Hamilton (TN): Part of the lineage of Lawson hoopsters, the incoming freshman could be the best of the bunch (his older brothers and father are on the Memphis team as players and coach). There wasn't a longer player at the camp as Lawson's wingspan, arm length and size of hands are mind-boggling unique. He's a mixture of an inside-outside forward with worlds of upside. From a production standpoint, there was more to be desired in this particular camp setting. That said, he is one of the most intriguing guys at the camp with a frame that bodes well for the highest levels of basketball. His progression will be fun to watch over the next four years. 
Donta Scott, SF/PF, Archbishop Carroll (PA): Well, hello. The 6-foot-5 wing forward made a big impression with his play on both sides of the ball. Few played harder than him. As soon as it was time to transition to defense, Scott was the first man back. He raced to the ball on defense and crashed the boards with purpose. Now at Archbishop Carroll, Scott has a chance to step into one of the best programs in the Northeast and be mentored by guys that improve players with similar skills. His jumper isn't exactly textbook but it is efficient. There certainly is a lot to like with Scott. 
More from the CP3 Rising Stars camp. Who did Justin Young think were the Super Six from the class of 2019 All-American event? These guys.