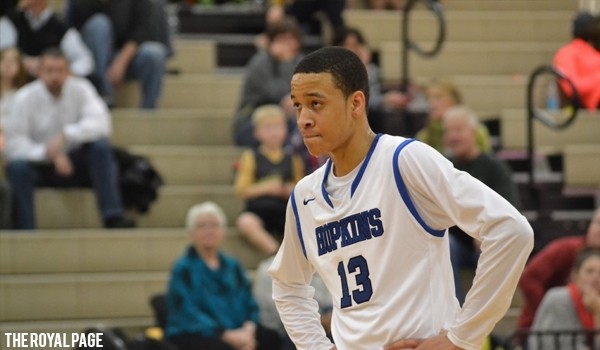 2016 Hopkins (MN) wing Amir Coffey had an eventful Monday evening, as he picked up two new scholarship offers from former NBA coaches. Alabama's Avery Johnson and SMU's Larry Brown both reached out to share the news with the four-star prospect.
Alabama and SMU join a host of other schools involved in Coffey's recruitment.
"Iowa State, Minnesota, Miami, Baylor, Michigan State, Arizona, Wisconsin, Marquette, Penn State, Indiana, Creighton, Northwestern, Oregon, Xavier, Providence, Florida, Arizona State, and Texas are the other schools that have offered," Coffey told HoopSeen.com.
As of now, the 6-foot-7 wing has no plans to cut down his list. It could happen soon, but nothing is set in stone. Coffey plans to take two official visits soon, though.
"I will visit Minnesota September 3rd and Texas September 18th."
Despite coming to the party late, Coffey says he is interested in what Alabama and SMU bring to the table. They are definitely in the picture going forward.
Avery Johnson and assistant Bob Simon have been actively recruiting Coffey as of late.
"Yes, [Alabama is a school I am interested in]. From what the coaches have told me, the recruiting is going great and Terrance Ferguson is a huge commitment and everything is going uphill," Coffey explained.
It will be tough for Alabama and SMU to win over Coffey. Many believe home-state Minnesota is in a good position to land him going forward, with Texas not far behind.