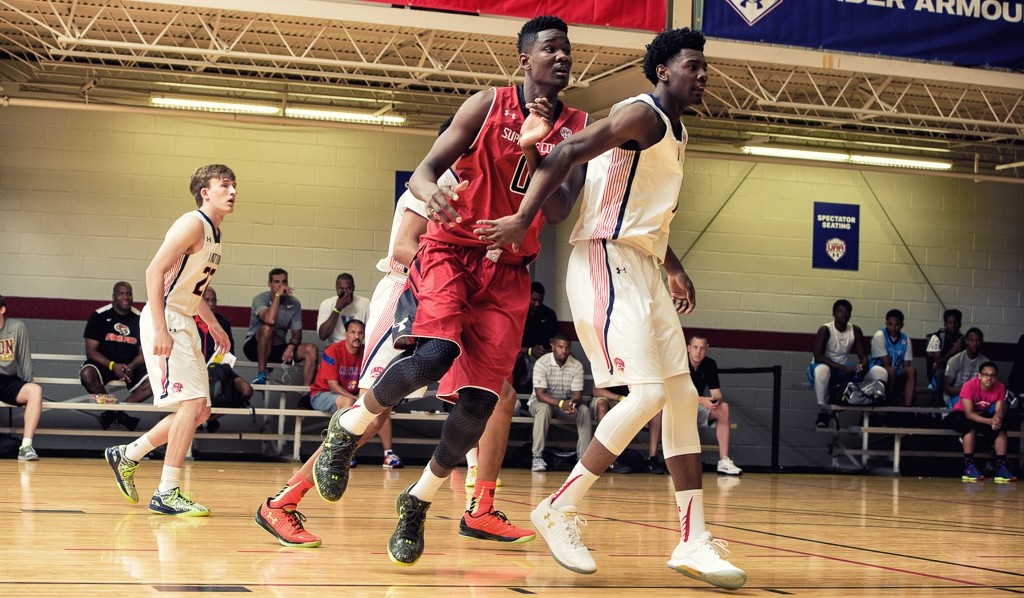 By Kory Keys
Day Two of the Finals of the Under Armour Association was all about star power match-ups. Who played well? What storylines jumped out? We dive in.
Thon Maker...Pretty Good
- So Thon Maker is as good as advertised. As I got my first look at him during warmups you could tell he was athletic and agile for his 7'1" frame. Little did I know he would display an advanced face-up game with a step-back jumper to finish the deal. Things got even more impressive when Maker calmly stepped back to the 3-point line after setting a "UCLA screen" and drilled a perimeter jumper. The kid is still a little raw, but he oozes talent and potential. I understand why high-majors and even NBA Draft fanatics are already foaming at the mouth. 
How about DeAndre Ayton?
- A lot of the conversation in college basketball recruiting circles revolves around whether you prefer the aforementioned Thon Maker or DeAndre Ayton. I simply don't think it matters. After seeing both it's a win-win no matter whom you choose. Ayton is a 7'0" 2017 prospect that projects as more of a true post, though he's comfortable stepping back to 15-18 feet and knocking down a jump shot. Ayton's sheer size and mass to go along with the athleticism and agility he possesses is something rarely seen. 
But Who's the Best Guard? Josh Jackson?
- With major college coaches looking on, Josh Jackson was streaky in his lone performance in front of me. I say that to also say he's an incredibly talented specimen. He's so smooth when he leaves his feet to elevate towards the rim off the dribble. His jump shot can be streaky, though he already has an advanced game off the dribble. With continued consistency, the sky is the limit.
...Or Maybe Terrance Ferguson?
- I saw Terrance Ferguson briefly last year at UAA's The Finals and was able to follow that up again this year. Ferguson is fortunate to also have a really talented group of players around him, though make no mistake, he paces his MWA Elite squad. Much like Jackson, Ferguson is incredibly athletic and equally long for a scoring wing. When he gets cooking, things tend to get out of hand quickly for the opponent.
Quick Hits:
- LSU commit Wayde Sims (Louisiana Elite) is a nice player. He has a good build and gets to the rim off the bounce well. 
- Harvard commit Chris Lewis (Atlanta Xpress) is going to special in the Ivy League. He's a kid I've seen play since he was a freshman in high school and he's continued to improve his game each year. 
- Speaking of Atlanta Xpress standouts, 2016 Kevon Tucker is a kid I've loved each time I've seen him play. He constantly makes plays, whether it's attacking the rim or knocking down a perimeter jump shot. Someone is going to get a good one here. 
- Circle the name Micah Bradford of Example Sports. The 2016 point guard out of Bradley Bourbonnais (IL) was the best player on a floor that featured Seventh Woods in the afternoon portion of UAA's The Finals.
- One of Josh Jackson's 1 Nation teammates, 2016 Spencer Littleson, was a really nice perimeter shooter. He already has LM and MM offers.
- It wasn't just Terrance Ferguson for MWA Elite as Skylar Mays, Billy Preston, and Mark Vital all showed flashes of why they're highly recruited prospects.
- Deandre Hunter is a nice prospect for Philly Pride. He's about 6'7" and projects as a power forward that has a nice face-up game. 
- Troy Baxter and Dewan Huell were a nice pair for Team Breakdown. In terms of length and athleticism, it was hard to score against those two. The thing about Baxter is he's a guard. He's one of the longest prospects I've evaluated.