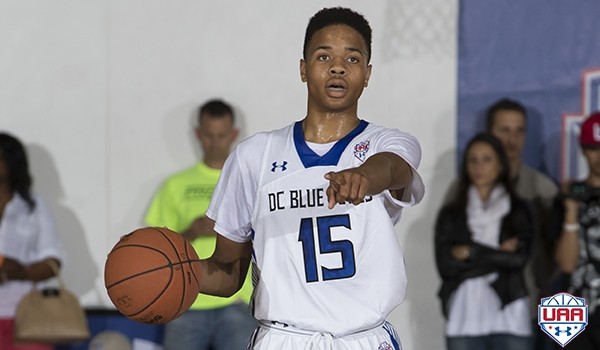 Day Three of the Under Armour Association was packed full of competitive basketball, great matchups, and a ton of high-level collegiate prospects. What stood out on Friday of the UAA Finals? These things:
Just How Good is Markelle Fultz?
After seeing Markelle Fultz play for DeMatha at the Hilton Invitational in January, I remembered thinking his stock, though already high, was going to rise considerably. And it did just that. Fultz has shot up to a top 30 spot in most national rankings. However, after seeing Fultz at the UAA stop in Louisville in April and again today, I'm not convinced that his ranks are high enough. The DC Blue Devils combo guard was easily the most impressive player in the gym on this day, going for 29 points, 8 rebounds, and 8 assists with just one turnover in his lone performance. In my mind he is easily a top ten player in the 2016 class, and might even be the best player not named Giles, Jackson, or Tatum. Fultz can do everything on a basketball floor and is a complete five-tool player and one of, if not the best player outside of that top three that I've seen all spring and summer.
Moore Delivers Huge Performance
Like Fultz, Alani Moore was another Washington DC guard that I saw at Hilton Invitational in January. Thinking highly of him then, I was curious to see how he would fare against one of the nation's top backcourts in We-R1's Quade Green and Trevon Duval. Not only did he perform well enough to get DC Premier to the UAA semi-finals, he made an impression on everyone in the gym doing so. Moore was absolutely unconscious from three all game long, keeping DC Premier in the game. And when it came down to the wire, his heart pushed them through. He made a big time and-one lay in on one end and came up with a loose ball, sacrificing his body and gaining the game clinching possession. Some people may look at his size at 5-foot-8 and be skeptical, but this guy has heart for days and is completely fearless.
Canada Elite's Guard Play Makes the Difference
Canada Elite has coaches' eyes all over them. With a number of elite high major prospects, that's no surprise. But while a lot of those eyes are on Thon Maker and Justin Jackson, guards Marcus Ottey and Godwin Boahen provided a lot of firepower for Canada Elite. The two guards are strong with their handle, can shoot it from deep, and can provide some highlight plays in the open floor. They were both huge in Canada Elite's semi-final win over Moe Williams Elite, and could be important if they want to capture the UAA Finals title.
Legacy Prospect Makes Things Interesting
KC Run GMC 15U forward Bol Bol, son of Manute Bol, is about as interesting of a prospect that there is. A rising sophomore and already standing 6-foot-10, Bol has tremendous length, as one would expect, but also has solid ball skills. Bol proved today that he has value on the defensive end blocking shots as well as on the offensive end, knocking down the perimeter jump shot. Those made shots also included one and two dribble pull-ups in the midrange and from three. He could project to be a terror of a matchup for opposing defenses with his combination of size, length, and skill set.
Tri-State Area Guards
Over the past few months, I have really grown interested in guards from the Tri-State area, New York, New Jersey, and Philadelphia. Today just added to that interest.  The best of those guards today was New York Jayhawks shooting guard Hamidou Diallo. Diallo is a long 6-foot-4 scoring guard who is deadly in transition. Today at the UAA Finals, it looked impossible to keep him from getting to the rim. Also, We-R1 has a tremendous backcourt of Trevon Duval & Quade Green, who are both elite high major prospects and have been great throughout the UAA circuit and here at the Finals. Another standout from the area was Sports U combo guard Breein Tyree. Tyree is a guard that can play both spots with great athleticism and the ability to knock down shots from deep. He is yet another high major guard prospect from the Tri-State area.
Other Quick Hitters:
·      It's easy to see why MM & HM schools are taking close looks at River City Reign power forward JJ Matthews. Matthews is a big body forward with a solid skill set that could be a solid contributor to a team.
·      We might be undervaluing Lithonia & Q6 All Stars guard Rodney Chatman. Chatman is one of the better guard prospects in Georgia, who can do a little bit of everything from the guard position. He really excels putting the ball on the floor and getting to the rack.
·      Charlotte Aces wing Alston Davis is still a very intriguing prospect to me. Davis has high major size and athleticism and really excels in a fast-paced style game. I think it will be interesting to see where his recruitment goes from here and into the high school season. He will be one that I have my eyes on.
·      I was really impressed with Earl Watson Elite 16U guard Jemarl Baker. He almost led EWE to an upset of the Indy Hoosiers in the semi-finals. Baker is a bigger combo guard who can really extend the range and knock down the three ball.
·      South Carolina Hornets duo Devontae Shuler (2017) and Zion Williamson (2018) were back at it again at UAA. They are both big time offensive threats and provide one of the better scoring duos you will find in any 16U division. High majors should be all over both of these guys.