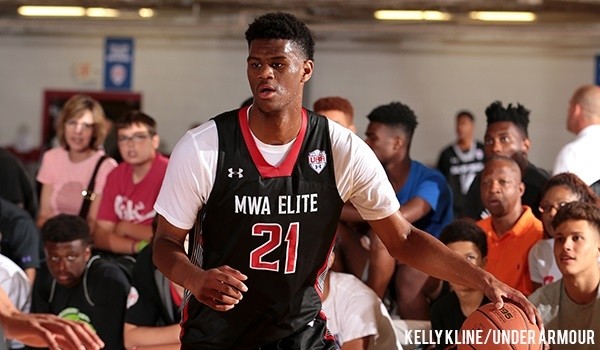 2017 Dallas (TX) Prime Prep power forward Billy Preston raised a lot of eyebrows with his play during the first two evaluation periods at the UA All-American Camp and at The Finals. Now, many think he is worthy of a top 10 national ranking.
"I think I have played great [over the past two weeks]," Preston told HoopSeen.com. "I haven't done a lot of scoring, but that's because I haven't had to do that to help my team win. I've been doing other things. If I have to score less and rebound more to win, that's what I will do."
Preston's ability to affect the game without scoring the basketball is what has people intrigued. At 6-foot-8, the big man can handle the ball on the perimeter and serves as a matchup problem for other big men.
As expected, many schools have taken notice of Preston's elite play. He holds offers from most of the Pac 12 and Big 12, along with other schools. However, two schools have made their mark early for the five-star.
"I would say Arizona and Maryland are coming the hardest."
"I talk to Coach Book [Richardson] and the coaches from Maryland all the time. They both tell me I am the type of guy they want to come in and be in their program and help the team," Preston added.
Both coaches from the respective schools kept a close eye on Preston during the UA Finals. He says there is a lot to like about both programs. He has strong ties to Arizona, though.
"I like everything about Arizona. My big brother Stanley Johnson went there. I saw his freshman season, and then I saw the year before when Aaron Gordon was there. I feel like Coach [Sean] Miller is a player's coach. If he knows what you can do, I feel like he will let you go and be free on the floor."
Maryland has also built a strong relationship with Preston early in the recruiting process.
"I feel like with Maryland, you can't go wrong with them, either. They recruit great guards that everyone else on the team wants to play with. They aren't selfish or anything like that. It's a great situation to go into."
While there is still a recruitment to fill out, it seems like Arizona and Maryland have put themselves in the front seat for one of the biggest risers in the 2017 class, Billy Preston.