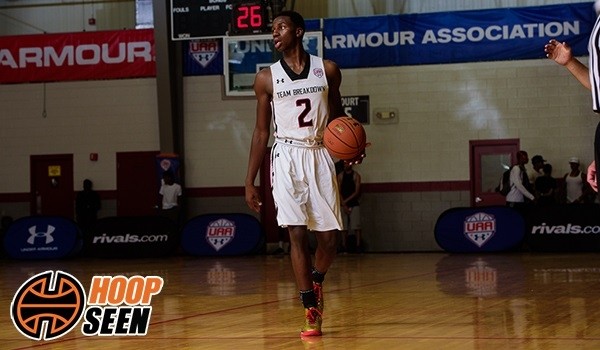 SUWANEE, GA -- Eric Hester, a 2016 combo guard from Oldsmar (FL) Christian, is one of the most versatile guards in the 2016 class. While he holds several scholarship offers, he may not be getting the national love he deserves.
The 6-foot-3 combination guard had a successful weekend at the UA Finals before injuring his ankle. He has great size for a guard and he can handle the ball and hit shots. However, his on-ball defense is something that college coaches have taken notice of over the past year.
"I have offers from TCU, Florida, USF, UCF, Florida State, Indiana, and Louisville," Hester told HoopSeen.com. "Florida is really making me a priority."
Since first being hired, new head coach Mike White and his staff have frequently been in-touch with Hester. In fact, they hosted him for an unofficial visit their first weekend on the job.
"It was a really good visit. The new coaches have been telling me how I will fit in with their program and how they play, and it was nice to meet them that soon."
During his visit, Hester got to meet one of his favorite players.
"Kasey Hill was one of my favorite high school players to watch. I got to meet him on my visit. He told me the new staff is great coaches and they have been pushing him to get better," Hester explained.
Nothing is in stone yet, but an official visit back to Gainesville is probable. As for now, only one is set up for the four-star guard.
"I'm supposed to go to Louisville August 3rd for an official visit. That's all I have planned right now."