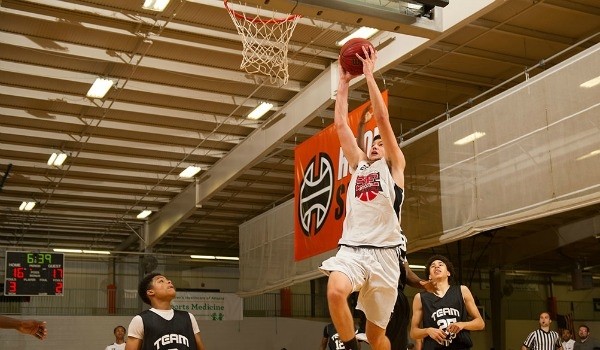 By Kory Keys
LAWRENCEVILLE, GA -- The Live Summer Festival tipped off on Wednesday night at Discovery High School in northeast metro Atlanta. There were 240 players competing as individuals and eight travel teams in showcase games. There was a lot to take in. Here's a snapshot of what went down on the opening day of the busy July live recruiting period. 
Southeast Elite continues to impress
I've seen Southeast Elite's 16U squad multiple times this travel season and I'm not sure I've been more impressed than when I say them on Day One of the Live Player Festival at Discovery High School. A lot of that is due to the all-around development of two guys: 2017 Chaundee Brown and 2017 Wyatt Wilkes.
Brown is an ox in a 6'5" wing's body. His sheer strength and savvy allow him to get through opponents' chests and score at the rim. He listed offers from UAB, UCF and Northern Arizona, but I expect high-majors to get into the mix...soon.
Wilkes is a guy I've been intrigued with all travel season. At 6'8" he's a guy with the most valuable skill in basketball: shooting. He's an absolute gunner from deep. And with that height and build, it's not going to shock me when high-majors come calling for a Stretch-4.
Young Talent? NIKE D1 Elite 2018 Has It
At first glance I noticed how raw and athletic this bunch was, but then I realized they were all 2018 prospects with a 2019 prospect thrown in as well. That immediately intrigued me. Guys like 2018 Russell Barlow (6'10"), 2018 Gerald Liddell (6'7"), and 2019 Jalen Jackson (5'9") immediately stood out to me. I suspect even more of them will jump off the page for me this week.
The Badger State Represents
Wisconsin Playground Elite has been on the grassroots scene for years and this bunch of 2017 prospects had a couple nice looking players. Of course, it all starts with 6'8" 2016 Kostandinos Antetokounmpo. You know him Giannis' younger brother, but the younger Greek Freak has game himself. At his length and size, Antetokounmpo flashes plus-ballhandling and playmaking skills off the bounce. I want to see more confidence in a jumpshot, however this kid is a high-major player. 
To add to that, guards 2016 Danya Kingsby and 2017 Jordan Poole were really impressive as well. This is definitely a team coaches will be flocking to this week.
Let's Talk About the Travelers
The 17U Travelers showed led by 2016 Braxton Beverly, but the guys that really jumped onto the map for me were 2017 wing Peyton Broughton (6'6") and 2016 post Matt Wilson (6'9"). 
Broughton is long, solidly built wing that allows him to guard bigger guys. The more he develops, the more big-time college coaches will start taking notice.
I liked Matt Wilson. At a thick 6'9" he bangs inside, playing an angled, beneath-the-rim style. He wasn't afraid to get physical either. This is the type of kid low-major and mid-major programs should take a look at.
Showcase Standouts:
In terms of individual performances from the Live Player Showcase, Florida guards Dajour Joseph (2016), Scootie Bryant (2017), and Damerit Brown (2016) were particularly intriguing. Know what they all had in common? Attack. Attack. Attack. All three could get to the rim off the bounce and finish through contact.