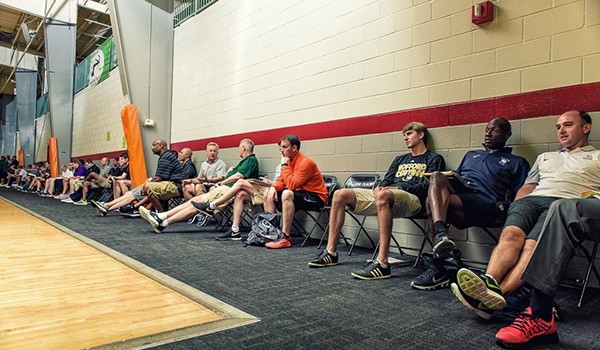 The first full day of the Best of the South completed pool play and advanced to bracket play on Saturday. The opportunity to earn a top seed sparked competitive play throughout the tournament.
Here are Friday's top performers and storylines…
LOUISVILLE HAS THE MAGIC
One of the most impressive teams I've seen this summer has to be the Louisville Magic 16U. While they have a surplus of talent, they mesh and play well together. They are one of the scrappiest teams in the tournament.
Jamil Wilson, a 5-foot-9 ball magnet, sets the tone for the rest of the team. Despite his size, the guard is quick, tough, and gritty. He plays bigger than his size and makes his teammates better. Low-major coaches will want to target Wilson for the future.
Another young prospect that goes hand-in-hand with Wilson is 2017 small forward Tony Jackson. The 6-foot-4 athlete is built like a football player and he isn't afraid to compete and roll around with bigger post players. Jackson had a great showing, as he embraced contact, put the ball on the floor, and showed some skill. Western Kentucky and VCU are his early offers, but high majors could come calling soon.
Don't be surprised to see this group competing for a championship come Sunday.
IT'S ALL ABOUT 2017
Top-tier programs essentially have their top 2016 players targeted now, so a lot of coaches are beginning to take a peek at the 2017 class here at #BOTS. Some underclassmen lived up to the hype, while others proved their worth early on Saturday.
Arguably the top player here is 2017 Game Elite (GA) point guard Darius Perry, and he didn't disappoint during the day's action. The 6-foot-2 guard has a great burst of speed and gets to the basket with ease. He showed the ability to finish with both hands at the rim, as well as hit shots from the perimeter. Minnesota was impressed enough to extend an offer after seeing him.
Another young guard that has made his mark with college coaches is 2017 Wisconsin Playground Elite guard Jordan Poole. The 6-foot-3 combo guard attracted many coaches to his game, including Auburn and Illinois. He has great size for a high-major program and his shooting ability makes him even more intriguing for schools. He will become a priority guy soon.
The Southern Stampede have a young team filled with 2017 prospects, and a couple of unlikely suitors helped lead the team in the morning session. Jay Estieme and Collin Sexton were two of the bright spots for the Nike products. Estieme, a 6-foot-5 wing, showcased his ability to hit shots from the perimeter, as well as finishing at the rim. North Florida is his lone offer, but that will change as more mid majors are intrigued.
Sexton, another talented young kid, showed off his explosive ability and athleticism. The 6-foot guard was constantly in attack mode and finishing at the basket. He is a guy high majors are beginning to learn about.
While the aforementioned prospects are all very talented, the most impressive 2017 prospect of the day was Team Corey Brewer (TN) guard Grayson Murphy. The 6-foot-1 guard played as hard as anyone over the course of the day. He has a great skill level and plays with a nice amount of swag to his game.
He is still searching for his first scholarship offer, but Lipscomb head coach Casey Alexander watched very closely. An offer could come soon.
WATSON SHOWS CONSISTENCY
One of my favorite players from the initial July evaluation period is definitely going to be 2016 All-Ohio Red wing Ibi Watson. At 6-foot-6, Watson has great size and skill for a player his size. His shooting has been notable. His technique and form is textbook, and it looks like high-major programs are monitoring him closely this week.
Watson holds offers from Ohio, Duquesne, Dayton, UMass, Akron, Bowling Green, Miami (OH) and others, but he should get even more attention. For mid major and high majors looking for a shooter, this is your guy.