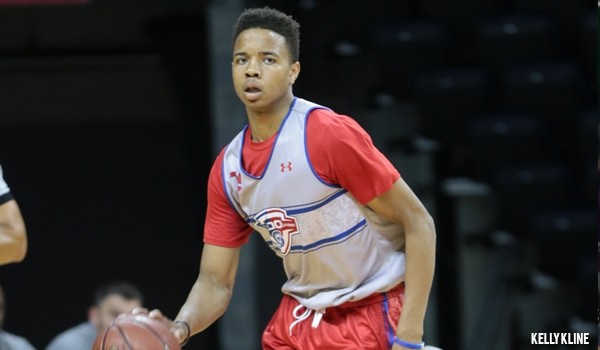 CHARLOTTESVILLE, VA - Who was the best of the very best at the shooting guard position? Justin Young and Mike Eddy deliberated on that question for quite a while and compared notes from watching three days of action. Here's their picks for the top shooting guards.
Markelle Fultz, 2016, DeMatha (MD): Right from the start, Fultz went to work and didn't shy away from being a do-it-all guard in a camp full of guys eager to show off their talent. Fultz delivered time and time again. It doesn't come as a big surprise that he was one of the key members of the championship team. I wondered, at times, if his most productive moments at the camp came from the point guard position. Fultz and Frank Jackson were almost identical in their production and play. That's high company. From an overall view of the camp, Fultz was one of the top five performers on the court and enters the summer as one of the hottest players on the circuit.
Hamidou Diallo, 2017, Woodstock Academy (NY): The 6-foot-4 guard was smooth in his delivery and as athletic of a player in camp. Diallo has an effortless approach to the game and drives to the rim as smooth as a Sunday drive through the country. Athletically, he'll wake up the crowd with a monster play above the rim or a steal that leads to a huge transition bucket. I think a case could be made for him to become a consensus top 40 national prospect. Some outlets are already in that train of thought.

Curt Jones, 2016, Huntington Prep (WV): He was one of the best shooters at the camp, connecting for two a game. He was set up time and time again for good shots and didn't shy away from getting up buckets. He's instant offense in a camp setting and impressed a host of on-lookers with his jumper on the wing. In a game that continues to value shots made from the perimeter, Jones is carving out a niche for himself as a guy that can win in an analytics world. 
Myles Powell, 2016, Trenton Catholic (NJ): He was the last guy invited to the invite-only camp and came in with a bit of a chip on his shoulder. Like Jones, Powell went to work on the wing and hit a total of 20 three-pointers over the course of eight games. He was not shy to get up shots and used his power frame to push people around. A bubble high-major guy, Powell was one of the best ranking outliers in the camp.