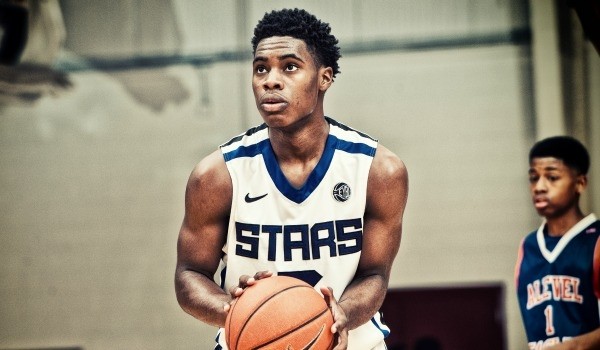 The Nike Memorial Day Classic was back in action on Sunday, as teams were looking to advance from pool play into bracket play and make a name for themselves. The day of play lived up to the high level of play that Saturday gave us and then some. Here are some storylines from the day of action:
Shuler Continues to Impress
South Carolina Hornets combo guard Devontae Shuler was great yet again on Sunday of the Nike Memorial Day Classic. Shuler's play this weekend has been some of the most fun basketball to watch this spring at Suwanee Sports Academy. He shoots the ball at a very high level and makes plays way above the rim as well. The best adjective to describe his game is electrifying. Out of the 2016 and 2017 players in the field, Shuler was the most talented player that I saw all weekend. Look for more coverage on him this week on HoopSeen.
E1T1 Loaded With Talent
The 16U E1T1 team has had some complete team efforts that have showed exactly how much talent they have. We have seen big man Silvio de Sousa & wing Tyler Polley and the multitude of talents they possess. Today, we got to know some new guys. Their backcourt of 2018 PG Nick Honor and 2017 SG Amorie Archibald did a bulk of the scoring today, Honor shooting from deep and Archibald slashing to the rim. Along with them was 2018 forward Emmitt Williams, who was a terror on the glass and made a lot of energy and effort plays.
Other Top Performers
Davion Mitchell, Georgia Stars 16U: Mitchell showed a type of elite level quickness that allows him to get by defenders with ease and finish in the paint with his strong frame and leaping ability. He also shot the ball well today from the perimeter. When he is connecting like he did today from deep, good luck to anyone trying to guard him.
Kane Williams, Georgia Stunners 16U: The South Paulding (GA) prospect gained our attention at a local event in the winter; however, at Nike MDC he really showed us the type of player he has become. The 6-foot-3 lefty guard slashed into the paint and showed a variety of finishes at the rim and the ability to score through contact. He was also a great distributor.
Preston Parks, SC Raptors 17U: Parks was one of the better guards at our Atlanta Jam event in the first April live period. The lefty point guard was cooking this afternoon, shooting lights out and getting to the rim. Where Parks really excels is in ball screen situations, where he makes great reads and knows what play to make.
Ryan Allen, Team Takeover 16U: The 6-foot-1 DeMatha guard has the makings of a very solid prospect. He's quick with the ball and can pull the trigger from three and in the midrange. He scored the ball very well today and showed he has some tenacity on the defensive end as well.
Chris Orlina, Team Melo 16U: Orlina certainly passes the eye test with great size and length, but his game also speaks for itself. The 6-foot-5 shooting guard is very good slashing to the rim, where that size and athleticism help him finish at the rim among the trees. He has a very high ceiling and could emerge as a high level player in 2017.
Malik William, Southeast Elite FL 16U: The long 6-foot-8 forward has impressed at Suwanee Sports Academy this spring. William showed a scoring ability in the paint, but where he really shined was blocking shots and rebounding. My favorite part of his game is the way he rebounds and outlets the ball, which creates a lot of transition opportunities for his teammates.