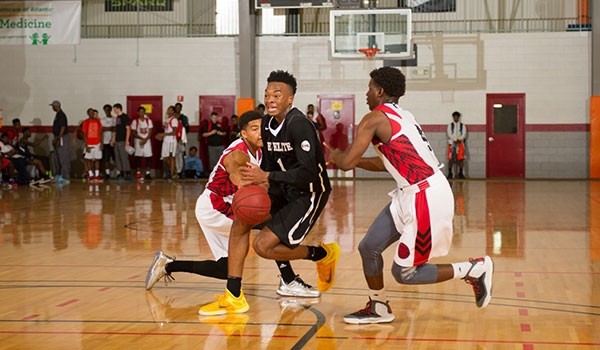 By Kory Keys 
Saturday at the Bob Gibbons Tournament of Champions is always one of the best days of the year at Suwanee Sports Academy. Our staff was posted up and caught a ton of terrific action. 
First we'll start with some recruiting updates:
- 2016 Brison Gresham of Elfrid Payton Elite reports offers from Miami, Oklahoma State, Memphis, Cincinnati, Oklahoma, Tulsa, UTEP, Tulane, UMass, La Salle, and UL-Lafayette. So yeah, the highly talented big man is a sought after player.
- 2016 Keon Clergeot of Florida Elite reports offers from Towson, South Alabama, Chattanooga, and North Florida thus far. Expect that to increase fast.
- 2016 Mike Sagay of Game Elite didn't report any offers yet, but did say he was receiving interest from Tennessee, NC State, Clemson, Georgia, UCLA, Texas A&M, Wake Forest, Seton Hall, etc. 
Now on to the notebook...
- Elfrid Payton Elite is going to challenge for the 17U title. After the aforementioned Gresham, they have a stud 2018 prospect in guard Javonte Smart. Smart's a long, athletic guard that features a pull-up game already. As he continues to become more consistent from the perimeter, expect Smart to blossom into an elite level prospect.
- If you've read this space before then you already know we're quite enamored with the 17U Atlanta All-Stars. That's a roster that features a lot of good Division II prospects.
Connor Mannion
,
Ross Morkem
,
Kerney Lane
,
Patrick Zeck
, and
Jhyra Wilson
all showed flashes 
on Saturday
 of guys that could be all-league players at the Division II level.
- The 16U Atlanta Celtics have been playing up with 17U this weekend and it's been a nice opportunity to evaluate them against stiff competition. Miller Grove's Josh Jackmon has been a standout along with Milton's Alex O'Connell and Westminster's Mikeal Sampson.
- Speaking of Florida Elite, it was hard to not come away impressed with their guard duo of Clergeot and 2017 Jamari Wheeler. Wheeler's a tough, quick ballhandler that gets to the rim. You can see why schools like Florida, Wyoming, Miami, and George Mason have reached out. 
- You know about the front like guys from the 17U Georgia Stars, but they've added a couple intriguing guards in 2016s Trent Forrest and Raquan Wilkins. Forrest is a big lead guard with a good handle and physicality to his game that complements a more finesse, slashing game of Wilkins. Both are guys to keep on your radar.
- I caught my first glimpse of Southern Stampede's 17U squad and came away immediately intrigued by 2017s Aljami Durham and Jatarious Smith. Durham is a long, wiry lefty that's very athletic and has a solid stroke, too. Smith on the other hand could go head-to-head with any athlete in this weekend's event.
- Team Winston survived a late rally from South Carolina Raptors Elite early in the day, mostly due to the play of 2016 guard Charles Norman and 2017 post Zaire Williams. Norman is a big-time athlete that finishes through contact at the rim while Williams is an angled, below-the-rim post player at this stage in his development.
- To go along with Georgia Stars and Elfrid Payton Elite, you have to throw Upward Stars Southeast into the mix of 17U title contenders. There's length and potential all across the roster, starting with 2016s Chavez Goodwin, Jordan Bruner, and Ayi Armel Tete inside. On the perimeter, they have a steady point guard in 2016 Xzavier Barmore and 2016 wings Brevin Galloway and Chancellor Prandy.