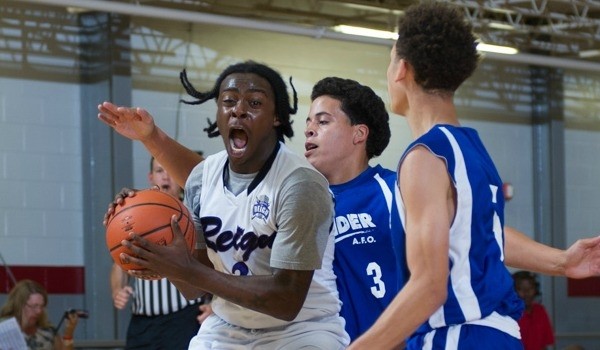 The much anticipated Bob Gibbons Tournament of Champions got off to a fast start on Friday night, with a packed house at Suwanee Sports Academy coming from all over to see the talent on display. With bracket play being the format from the beginning, teams were looking to get off to fast starts and separate themselves from the rest of the pack. Here are some notes from the opening night games:
New Name Alert: Savon's Academy may not have come out on top against Stackhouse Elite, but 2017 shooting guard Jules Jasmin opened a lot of eyes. A strong 6-foot-2 guard, Jasmin got to the rim whenever he wanted to, throwing down some huge dunks and finishing through contact. He looked very dynamic and earned his way onto our radar with his performance. 
The Stackhouse Elite backcourt continued to impress. One of the better shooting duos, Garrett Covington (GAC) and TJ Howard (IMG/North Gwinnett) can fill it up in a hurry from the perimeter. Their abilities are no secret to the HoopSeen staff. However, the standout in the backcourt tonight for Stackhouse may have been guard Lindell Wigginton. He showcased his ability to be a true point guard – handling the ball, running his team, and making the right reads from the point position. 
The Charlotte Nets inside-outside combo of guard Davion Mintz and forward Jaylen McManus looked to be a formidable one. Mintz is a big 6-foot-4 point guard who can score it from all levels of the floor and showed the ability to get dirty on the interior and rebound. McManus is a human Swiss Army Knife and has the tools to do a little big of everything on the floor. Be on the lookout for the Nets as the tournament moves forward. 
In a loss for the Warriors, Lambert guard Andrew Melms continued his good play. Melms finished with 14 points tonight and played well at the point against some bigger guards. Melms has had a very impressive spring and has jumped onto our radars in a big time way. 
River City Reign was very impressive in an opening round win. The Reign have a number of players that have Division I offers. Tonight, big man JJ Matthews was very strong, rebounding well and controlling the paint. He also had a number of huge dunks. The 6-foot-8 big man holds a number of offers including James Madison, Fairfield, Towson, High Point, Robert Morris, and Central Connecticut State. 
River City also got good play from its backcourt of Maliek White and Gus Rowland. White is a sneaky scorer who can play both guard positions. He holds offers from Fairfield, Hofstra, Kennesaw State, Sam Houston State, ECU, Drexel, James Madison, and Towson. 
Over the course of the high school season, we became familiar with Douglas Bros. & Cedar Grove 2016 forward Jacara Cross. Cross was impressive to open Gibbons, showing the ability to make plays from the high post as well as play strong and finish above the rim. Low and Mid Majors will want to check him out and keep him on their radar. 
Unsigned senior Artavius Love was a scoring machine for the Smyrna Stars in their opening round win. The Alexander wing showed his abilities at the HoopSeen Senior Showcase and continued his good play at Gibbons, scoring from all levels and shooting it very well from deep. When he's on, he can be one of the most dangerous scorers in the field.