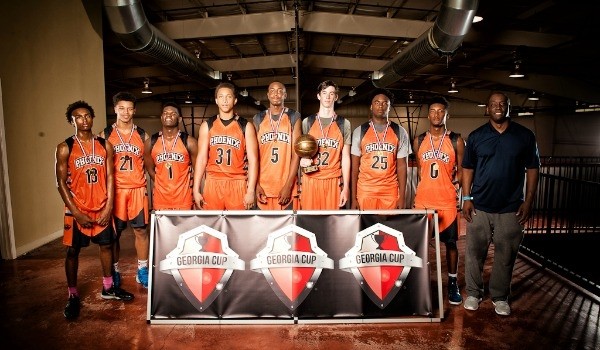 If there were any lessons learned this season on the Georgia Cup circuit it was this - look out for the Georgia Phoenix. 
Seriously. 
The Phoenix earned their reputation this travel season by winning, competing and playing well against all comers. There was no fear in this club. 
Balance, execution and fearlessness were the anchors to this team. And those traits helped the Phoenix go 18-4 on the season and claim a pair of tournament championships. No one won more games on the circuit than these guys this season. 
You never really knew who the go-to guy would be for the Phoenix and that is the beauty of the squad. Any of these guys could roll through and take care of business: Charlie O'Briant, DJ Young, Jordan Ballard, Titus Cook, Phillip Cirillo and Ethan Reid. 
The Phoenix will be the No. 1 seed next weekend at The Finals of the Georgia Cup. 
The 16 and under division was one of the most competitive age groups of the Georgia Cup this season. Active Elite Black (9-5), North Georgia Elite Long (7-2), Georgia Stars Murray (7-3), TNBC Select 1918 (7-3), Reach Higher Kings (7-4) and MTXE (5-0) were some of our top teams in the division.
Other top players in the 16U Georgia Cup from multiple events: Jaquan Morris (EOTO), Trey Wilson (Kingdom Elite), Trae Higginbothom (Champions Chance), Tae Hardy (AHT), Ken Stanciel (EOTO) and Jayden Coma (Roswell Buckeyes). 
2015 16U Georgia Cup champions:
March 20-22: Georgia Phoenix
March 27-29: GA Stars 15U
April 17-19: Georgia Phoenix
May 15-17: EOTO (orange) / GA Phoenix 9th (black)