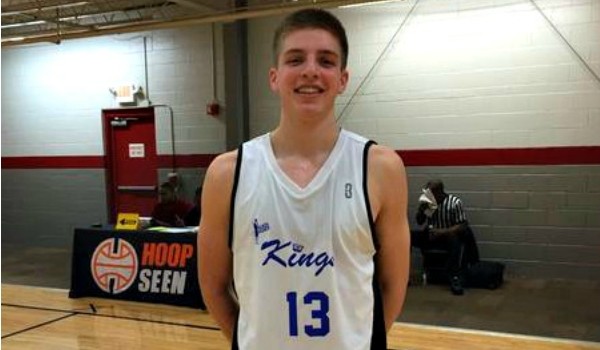 One of the best things with an event like the Norman Parker Showcase is the breakout players. Who owned the stage and wrote their story over the weekend? College coaches will want to pay close attention to these four players this weekend as the NCAA live evaluation period opens up.
Jacara Cross, PF, Douglas Brothers Elite - We've been big fans of the athletic 6-foot-6 forward all high school season long at Cedar Grove and dating back to last year's Georgia Cup circuit. We invited him to our Elite Preview camp but he couldn't attend because of a break in his hand. So, when the opportunity to see Cross in action at the NPS, we pulled up a front row chair. Cross was nothing short of spectacular over the course of three days. The class of 2016 forward was one of the top overall performers at the season tip-off event. He'll crack our top 35 class rankings for the state of Georgia when we release them at the end of the week, too. Cross has the tools to be a major spring riser. 

Brent Duncan, F, Game Elite - Mr. YouTube is now becoming Mr. Jump Shooter. The tight end look alike played very well at the Elite Preview and continued his success at the Norman Parker Showcase. Athletic and powerful, Duncan does a fine job of playing above the rim and running the floor. He's a bull the iron and that skill set has served him well. Each time out, we're seeing more and more confidence in the forward from Holy Innocents' jumper in the midrange and out to the three-point line. In a shallow talent pool for bigs in Georgia's 2016 class, Duncan should catch the attention of quality non-majors this spring. 

Colby Leifson, SG, Reach Higher Kings - Shooters come at a premium and no one, and I mean no one, shot it better at the NPS than Leifson. In fact, no one has shot the rock better than the class of 2016 guard in all of our HoopSeen events this early spring. Leighton hit an astonishing 17 three-pointers over the course of three games, averaging 23 points a game. College coaches at every level are always looking for shooters. Leifson, a North Gwinnett guard, fits the mold. For college coaches that are looking for specialists this coming weekend, pull up a chair and have a look. He can let it fly. 

Josh Linder, PF, Atlanta Xpress DB - Like Leifson, Linder is taking advantage of the stage of a HoopSeen.com event and propelling his game into the conversation of our team. The 6-foot-7 class of 2017 big battled his Xpress counterparts in a fun bracket game on Saturday afternoon. Linder is long, athletic and good in transition. There is a Chris Davenport (North Florida) quality to his game. Much like Davenport, I can see the Veterans HS forward's recruitment take on a similar flavor. Georgia's 2017 class is loaded. Linder will be in play for a top 35 state ranking this spring in the Peach State.