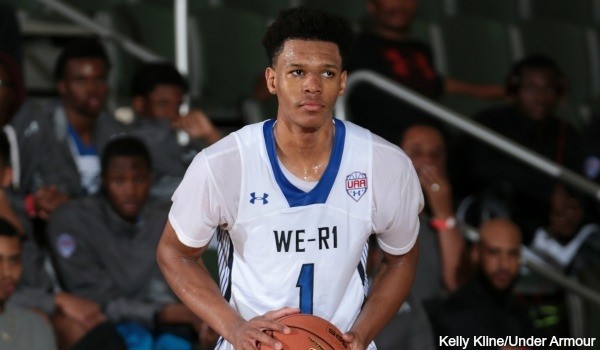 LOUISVILLE, KY — The final day of our three-day tour finished at the Under Armour Association in the heart of the Bluegrass State. The star power didn't disappoint either. Here were my four top performers from Sunday. 
Trevon Duval, PG, We R1, 2017: We saw a lot of talented guards over the course of the three-day weekend at all three events and I'm not sure there was a better guard I saw than Duval. A delightful mixture of speed, athleticism, wow and playmaking, the 6-foot-3 guard ended our tour with a 21-point efficient showing in the final game on Sunday. He was dazzling in every possible way. If you click on his UA profile, under "My Game" he describes it as "Killer". There couldn't be a more accurate. Duval set my bar very high when it comes to game-changing floor generals. He was simply brilliant.  
Dewan Huell, PF, Team Breakdown, 2016: The state of Florida is loaded with alternated big men in the class of 2016 and Huell is right there among the very best. Against a tough Louisiana Elite team, Huell was the model of efficiency. He scored 25 points and grabbed a dozen rebounds. Perhaps the most impressive part of his game is knowing against what he is. He didn't do anything that was out of the ordinary. It was simple block scoring, put backs and an occasional face-up jump. In front of roughly 20 high-major coaches watching him, Huell was terrific. 
Nazreon Reid, PF/C, SportsU, 2018: The 6-foot-9, long-armed, thick-chested post looks and plays a lot like a young Andre Drummond. At the 15 and under level of the UA Association, he just bullies through the competition. It really isn't a fair fight in most match-ups. He has soft but vice grip strong hands. For fear of blowing him up too much, I would not be wrong in saying his spot among the top players in the class of 2018 for the next four years. He's a franchise prospect. 
Paul Scruggs, PG, Indy Hoosiers, 2017: Scruggs is one of the most physically impressive point guards there is in the country. At 6-foot-4, 200-pounds he bullies through defenses at ease. His power guard game reminds me some of former Mississippi State guard Jamont Gordon. Scruggs mixes power with production, smarts and skill and production and potential. A five-star guard that is a priority for the midwestern schools, Scruggs should be a coast-to-coast national prospect.