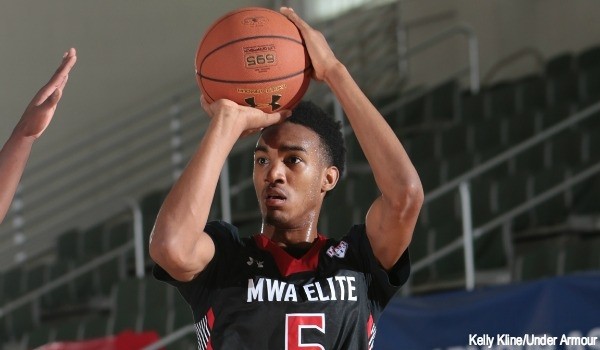 LOUISVILLE, KY — The Sunday schedule at the Under Armour Association was full of quick-hitting, fast-paced games led by the league's top players. Here's my top performers from day three of our shoe showcase tour. 
Terrance Ferguson, MWA Elite, 2016
It's very easy to see why Terrance Ferguson is one of the most highly sought after recruits in the 2016 class. Ferguson is a 6'7 combo guard that can create his shot at any time . He excels in transition where he showcases his freak athleticism. The most impressive facet of Ferguson's game on Sunday was his defense. He uses lengthy frame to pressure the ball, and he played the passing lanes exceptionally well. Avery Johnson was courtside watching his priority recruit. 
Micah Thomas, Team Thad, 2016
Micah Thomas is a very intriguing prospect in the 2016 class. Thomas is a very bouncy, 6'7 wing. He used his lengthly frame to alter shots at the rim and defend on the perimeter. Thomas can get really hot from 3. He looks comfortable attacking from the wing, but added weight will help. High-Major schools will be all over Thomas after his strong play. 
Chris Lewis, Atlanta Xpress, 2016
Harvard is getting an absolute steal in 2016 ATL big Chris Lewis. Lewis is very comfortable playing with his back to the basket. He has a variety of moves and can finish around the basket with either hand. Even though Lewis is a very skilled big, he has a well built frame that he uses to punish defenders. Expect Lewis to be a force in the Ivy League.