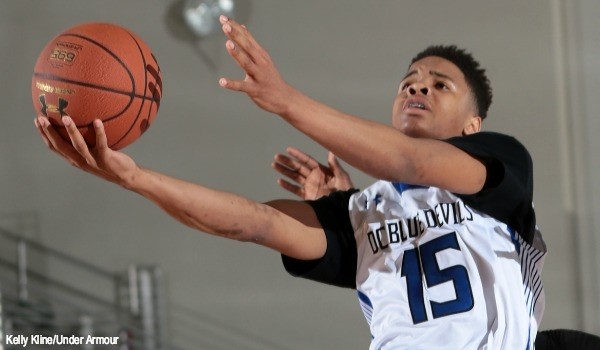 LOUISVILLE, KY — Stop number three for the HoopSeen staff was Sunday at the second leg of the UAA. With the talent that was seen at Nike and Adidas the previous two days, Under Armour had a lot to live up to, and they didn't disappoint in the slightest. Here are a few top performers from a great day of action:
Quade Green, We-R1, 2017
Half of the We-R1 backcourt, Green was the table setter for his teammates. Green is a steady point guard with a great handle and high basketball IQ. Green keeps the basketball moving, and when a shot comes his way he is able to knock it down. He was of the better point guards of the weekend. 
Joey Mooney, Illinois Wolves, 2015
An unsigned senior, Mooney proved that he is worthy of a spot on a Division I roster. Mooney is a shifty left-handed combo guard that is quick with the ball and an elite level shooter. He was one of the better surprises of the weekend as he can fill it up in a hurry. Coaches needing to fill a guard spot in their 2015 class should give him a look as soon as possible. 
Markelle Fultz, DC Blue Devils, 2016 (pictured above)
After seeing Fultz at the Hilton Invitational in January, the HoopSeen staff wanted eyes on him this weekend. The DeMatha product is a combo guard with size that can score the ball with the best of them. His ability to score has all the power conference schools drooling over him. He will be a name that you hear a lot of over the next year.