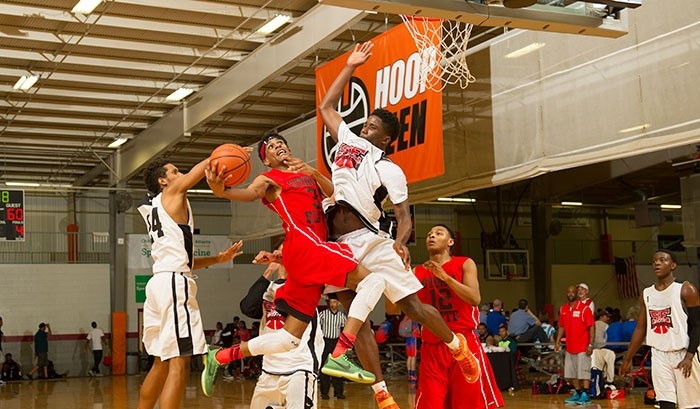 Day Two of the Atlanta Jam has brought more excitement as bracket play has begun and contenders for Sunday have emerged. Here are a few thoughts on today's action:
Team Power out of Augusta has been great this weekend, which is fitting for the weekend of The Masters. Their backcourt was phenomenal today with Christian Keeling (Laney) and Madison Williams (Augusta Christian) both showing a big time scoring ability. Add the presence of Ricquail Smoot (Butler) in the middle and you have a team that could be vying for a championship come tomorrow. 
Birmingham Storm guard Javien Williams kept his scoring onslaught going with a 19-point & a 25-point performance. He has averaged 23 points per game here and has opened some eyes in doing so. Low majors may want to get this guy on their radar for the rest of the summer and into next season. 
The Charlotte Aces continued their good play, as they put the clamps down on defense making it very hard for their opposition to score. With the type of length and size that they have, it's no wonder that there are not any empty seats in the college coaches' section when they play.
Alston Davis' (Charlotte Aces) coming out party continued today with another impressive showing. He keeps the pedal to the metal and is always playing at 100%. Combine that will and effort with a solid skill set and elite level athleticism, and you are talking about a pretty special player. 
The Florida Tarheels' backcourt played very well this afternoon in bracket play. After a standout performance last night, combo guard Deloran Oliver continued his attack on opposing defenses by scoring 17 points, shooting it well from the perimeter. Also of note were his backcourt mates, Cedric Jackson and Carlon Holder, who scored 18 and 13 respectively. 
Sleeper Alert in the 17U Gray Bracket: Ephraim Tshimanga of Team Impact. The Allatoona product has averaged 22 points per game over the course of three games in the tournament thus far. 
In our younger division, the 15U Florida Sons put on a good showing in the early games this morning. Of note was 2018 wing Maudet Akec, a 6-foot-6 wing that moves well with a lot of versatility. Defensively, he was a stopper out on the perimeter, and offensively he scored it well from the midrange and the block.