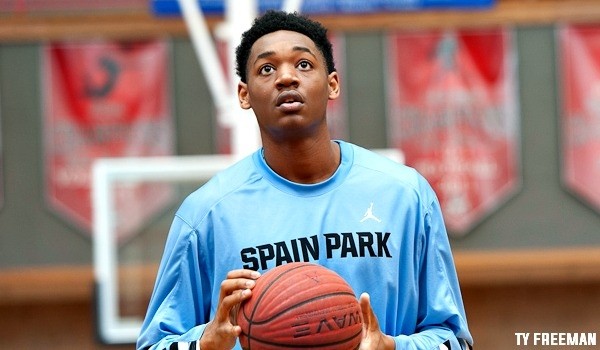 After being able to monitor the Class of 2017 prospects during their first few years of high school and AAU, it is time to unveil our first edition of rankings for Alabama's impressive sophomore class. While it is still early in their respective careers, these are the prospects that have distanced themselves from the rest.
HIGH-MAJOR TALENT AT THE TOP
Alabama's 2017 class is one to remember for the future. The state tends to produce a couple of high-major prospects each year, but with this class, there is plenty of high-major talent on the list.
The head of the class belongs to Spain Park center Austin Wiley. The 6-foot-10 big man has already made his mark nationally, as he is known as a top 10 prospect in the country. Wiley's shot-blocking and defense, as well as his rebounding, has the likes of Duke, North Carolina, Florida, and Auburn hot on his trail.
Coming in at No. 2 is J.O. Johnson's talented wing, John Petty. Standing 6-foot-5, Petty has great size for the prototypical shooting guard at the next level. Combine that with his athleticism and offensive arsenal and Petty is an intriguing prospect. Expect the talented wing to continue to climb national rankings.
The buzz surrounding Pelham power forward Alex Reese isn't as big as the aforementioned prospects, but after the spring evaluation periods, the 6-foot-8 big man is expected to be a national name. Reese is a great stretch 4 big man that is skilled. He can hit shots from the perimeter, as well as put the ball on the floor. He is a mismatch waiting to happen for other bigs, and there's no doubt, he will be a big priority for some college programs soon.
Jamal Johnson, a combo guard from Spain Park, checks in at No. 4. The 6-foot-3 guard made some statements this season with his play on the national stage. He caught the eye of the HoopSeen.com staff in Atlanta at the Hilton Invitational around Christmas. If a top 50 recruit can be underrated, Johnson may be it. He will be pushing for five-star status the next few years.
Rounding out the top 5 is Auburn big man Garrison Brooks. The 6-foot-8 power forward was a double-double machine this season, as he helped lead his squad to the state regionals. With offers from UAB, Auburn, Alabama, and Mississippi State, he is another talented prospect to watch.
WINGS AND FORWARDS AT A PREMIUM IN 2017
The amount of size the 2017 class has is unusual for Alabama. The length and size stretches well down the top 15, including Myles Parker, Khalil Johnson, DeAndre Robinson, Trip Day, and Reginald Mhoon. 
The depth and size will make Alabama even more popular as their recruitments last.
WILL LEGACIES CONTINUE?
A handful of these prospects already have connections to schools involved in their recruitment.
Austin Wiley's parents both attended Auburn for college. His mother, Vickie Orr, was a track star for the Tigers, while his father, Aubrey Wiley, played basketball. Bruce Pearl has made the young Wiley a priority to this point, and as things stand right now, they may be the team to beat for his services.
Buck Johnson is one of the most successful players to come out of the University of Alabama. After a solid stint with the Crimson Tide that led him to being drafted by the Houston Rockets, it's hard to argue that his son, Jamal, won't end up in Tuscaloosa.
With a new coach at the helm, expect Avery Johnson to come after Jamal hard and continue the legacy that his father built. It won't be easy, though. Plenty of other high-major programs are hot on Johnson's trail.
New head coach Ben Howland retained assistant coach George Brooks from Rick Ray's previous staff at Mississippi State, and I will be the first to say that was a big move for the Bulldogs. 
Yes, Brooks knows the Southeast very well, but his son, Garrison, isn't a bad prospect, either. By retaining George on staff, it gives Mississippi State a head start in his recruitment. Hometown Auburn and the other in-state schools will have something to say about him leaving Alabama, but the Bulldogs will be in a good position in a few years.
It will be exciting to see where these three guys end up.
HOW THE RANKINGS ARE FORMULATED
The philosophy of our HoopSeen.com rankings is all about projections at the college level. How will these high school players fare at the next level? How does their game translate to the next level? What kind of lasting impact will they have at their future destinations?
Understand this - rankings (no matter where you find them) are totally subjective. There is never a right answer. They are opinions formed over years of evaluations at different settings. We look for a combination of several things - Production, potential, winning pedigree, size, how a player's game translates to the college level, work ethic, and a host of other filters.