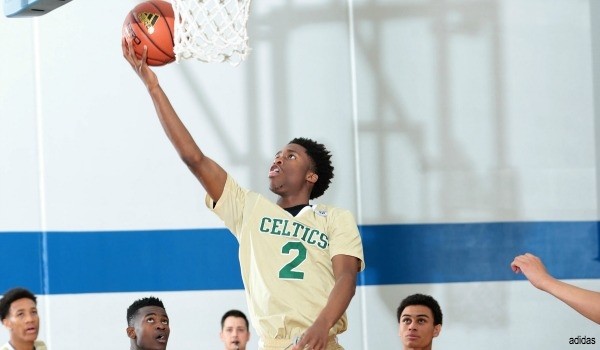 INDIANAPOLIS, IN — Fans, coaches, players, parents, media and observers packed into Best Choice Fieldhouse for a fun opening night of the adidas Uprising event here in America's heartland. Here's a glimpse at the top performers Justin Young saw.
Kobi Simmons, PG, Atlanta Celtics - Whether he was going right with the speed dribble, or going left with the attack off the bounce, there wasn't a better player in the building on Friday night at attacking the iron than the five-star guard. Simmonds attacked the Game Point (CA) defense with great speed and huge strides in his step. Whether it was in traffic or in transition, Simmons did a great job when he was in the paint for buckets or drop passes that made his teammates more effective. The point guard element to Simmons' game continues to improve, thus raising the profile of the five-star guard. John Calipari was on hand to see Simmons play. 
Auburn head man Bruce Pearl, UCLA's Steve Alford, Cal's Cunzo Martin, John Thompson III of Georgetown and Billy Donovan were also on the Celtics sidelines. 
A host of assistant coaches were also on hand to see Simmons in action. Ohio State, North Carolina, Louisville, Memphis, Kansas, Georgia and Miami were on hand, too. 
Dennis Smith, PG, Team Loaded NC - There are guys that have the extra gear. Then there are guys with the extra gear for the extra gear. Smith is that kind of guy. His speed mixed with power and athleticism was just too difficult for the opposition to contain. He can get whatever he wants with patience, dribble and an inch of space. When all three combined, forget it about it. Smith was a blur with the ball. 
Edrice Adebayo, PF/C, Team Loaded NC - Simply put - there wasn't a better rebounder that I saw on opening night that Adebayo. He was just terrific on the glass. There aren't a lot of physically intimidating board cleaners like him. He put the power in power forward and was the beneficiary of good guard play and wings hitting open shots. 
Shaun Kirk, SF, Team Loaded NC - The class of 2015 wing came out with guns blazing. He rocked the rim with several power dunks, drilled a trio of triples and ran the floor with ease. For programs still looking for talent late in the game, Kirk is an attractive prospect. He said he visited Charlotte last week and like what he sees from new 49ers head coach Mark Price. UNC Wilmington is a player in this one while schools like Memphis, Missouri and Wake Forest are in the mix, too, he said. 
Kamar Baldwin, SG/PG, Atlanta Celtics - If you've read this site over the last couple of years you'll know how much we appreciate his game. Baldwin is one tough customer and the epitome of humble production. Ole Miss head coach Andy Kennedy and South Alabama's Matthew Graves were on hand to see him while Dennis Felton of Tulsa, Richie Riley of Clemson and Claude Pardue of Georgia State were on hand to see Baldwin in action. There's a strong chance that a host of other schools were having late night discussions on Friday about Baldwin and how much more they would like to watch him this weekend. He's a super talent. The Apalachee (GA) HS guard showed his passing, defense and IQ in this game.