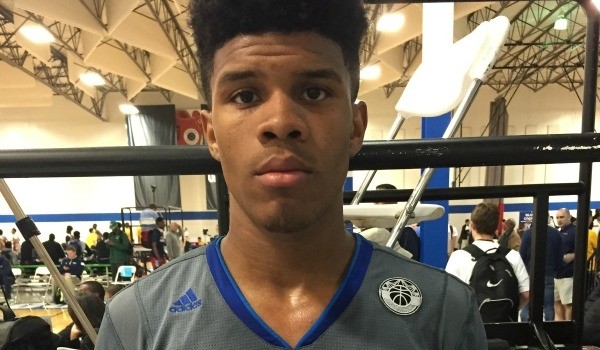 Jalen Butler was on the sidelines and baselines of the adidas Uprising event and saw a number of players on opening night. Who stood out to JB here in Indianapolis? 
Lamar Peters, New Orleans Elite, 2016 (pictured above)
Lamar Peters maximized playing in the opening game of the 2nd live.  He scored 21pts, including 5 3's, in a win over Team Wall. Tom Izzo and a host of High-Major assistants were court side for Peter's standout performance. Peters, a 6-1 point guard, created shot for himself and others at will. An underrated aspect of Peter's game is his on-ball defense. Expect more High-Major schools to be involved with his recruitment. He plans to visit Mississippi State the 1st week of May. 
Jalen Harris, Team Wall, 2016
Jalen Harris is a 6'2, very explosive point guard. Harris held his own in a matchup against Lamar Peters. He used his great change of pace to attack the basket aggressively. Harris excelled in transition where he finished numerous thunderous dunks. Depaul is the lone High-Major offer for Harris, expect more schools to begin tracking him. 
Brian Bowen II, Michigan Mustangs, 2017
Brian Bowen was one of the smoothest wings in attendance. Bowen used his 6'7 frame to score on a variety on ways. It is easy to see why he already holds over a dozen High-Major offers. Tom Izzo has already made the 2017 prospect a priority. Bowen has a ton of upside, and it will be a national recruiting war for his services.