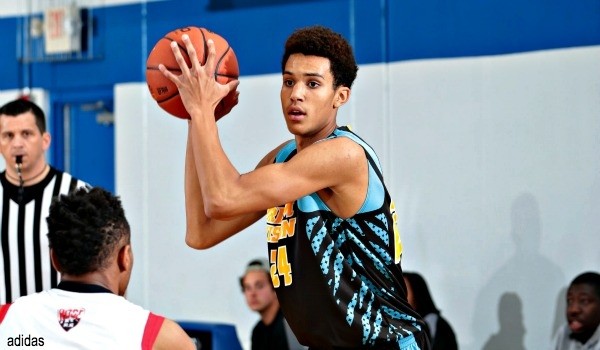 The second live period is upon us and the HoopSeen staff is hitting the ground running. Stop one was at Adidas Uprising Gauntlet in Indianapolis, where there was an abundance of talent to be seen on every floor. Here are a few of the standouts from Friday night at Gauntlet:
Brendan Bailey, Dream Vision (pictured above)
Bailey is a long wing with size that can shoot it from deep. His size and length combined with his ability to play out on the perimeter make him versatile in that he can play every position 2-4. The ex-Arizona State commit and son of former standout Thurl Bailey showed that he could be a priority for high major coaches. 
Marcus Lovett Jr., Dream Vision
The class of 2015 point guard of Dream Vision had a number of head coaches' eyes on him and he did not disappoint one bit. Lovett is a true point guard who can run a team. He has an exceptional handle on the ball, gets his teammates great looks with his passing ability, and hits open shots when they come his way. A very heady player, Lovett understands the game at a high level, which is always refreshing to see from a point guard. 
TJ Leaf, Compton Magic
Coming into the event, we knew that Leaf would be one of the top players in the event, and he lived up to the hype. Standing 6-foot-9, Leaf has a versatile skill set and can play on the inside and on the perimeter. Leaf also showcased a little bit of his athleticism at Gauntlet, getting out in transition and throwing down some monster slams. 
Wenyen Gabriel, Mass Rivals
The first thing you notice about the Wilbraham Monson (MA) forward is his length at 6-foot-9 with a wingspan well over 7 feet. Gabriel is a high-energy player that runs the floor well and finishes well above the rim. He also showed the ability to make one and two dribble moves in the halfcourt to get to the rim. Though slight of build, he is not afraid to mix it up with posts who have bigger builds. 
Michael Smith, Team Rose
Smith packs a lot of power into his 5-foot-10 body, and uses a combination of strength and quickness to get to the rim. His lack of height actually provides a lot of benefits to his game. He is able to use his low center of gravity to gain leverage both on offense, helping to blow by defenders, and on defense, getting under opposing guards and hounding them. He was an eye opener tonight.