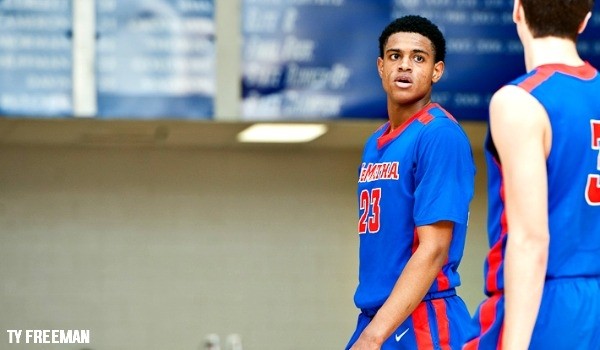 DJ Harvey is one of America's top basketball prospects in the class of 2017. That's not a big secret. The 6-foot-5 wing from Hyattsville (MD) DeMatha has been a name hoop heads are familiar with for quite some time.
Recently, the Alabama returned to his native South with the Stags for the Hilton Invitational and the sophomore put on a second half show against a very good Pebblebrook (GA) team. Harvey, the No. 12 overall prospect in the 247 Sports Composite Rankings for the class of 2017, said it felt great to be back a familiar setting.
"It was good to see a lot of people I haven't seen in a while. (The South) is my first home. It's a great feeling," he said. "It's going good at DeMatha. I've got friends, family, teammates that have all been helping me. We have a good sophomore class."
Harvey looks back to his experience with USA Basketball over the summer as a major jumping point with his game.
"It was pretty good to be recognized going out there and it was good to see where I stacked up with my fellow classmates. It was a great experience and it pushed me," Harvey said. "I felt like I got a lot better being at a camp like that."
The nation's major programs agree about his improvement. Harvey said he already has scholarship offers from the likes of Arizona, Georgetown, Memphis, Miami, NC State, Oklahoma State, Tennessee, Wake Forest and Xavier.
Because he's just a sophomore, Harvey said he's not in a rush to jump into the recruiting race. He'll suit up for Team Takeover and play on the Nike EYBL circuit this spring and summer.