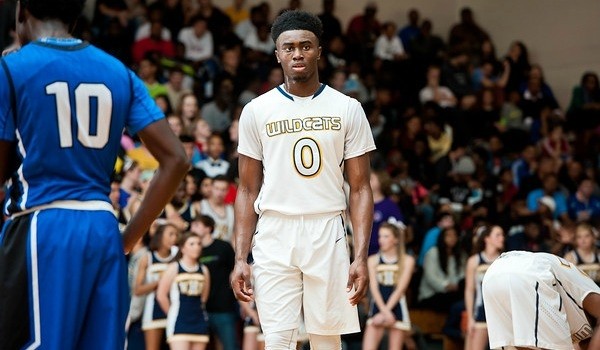 MARIETTA, GA -- Wheeler, our No. 1 team on the Power Poll all season long, is aiming for a return trip to Macon to claim the AAAAAA title. However, getting there won't be easy. It never is in Georgia's biggest classification. On Saturday night, the Wildcats had their first big challenge of the state tournament with Douglas County coming to town.
Not only did Wheeler deliver, the team showed some serious first half defensive chops and were paced by the nation's best prep prospect. Wheeler won 87-68 in front of a standing room only crowd.
Here's the takeaways from the night.
BROWN KEEPS ON DELIVERING
From a sheer entertainment value standpoint, Jaylen Brown ranks right up there with the likes of Dwight Howard and Louis Williams in Georgia high school prep history. He never disappoints on the big stage.
On the eve of his last game at Douglas Lipscomb Gymnasium, Brown was outstanding. He finished with 34 points, 17 rebounds, five blocks and played with the best motor of anyone on the floor. When he came out of the game for the final time, he motioned to the crowd, almost thanking them for their energy all night long. UNC head coach Roy Williams and assistant coach Hubert Davis were on hand to see Brown deliver.
Missing from Brown's résumé is a Georgia state championship. He and Wheeler hasn't been able to bring a trophy back to Holt Road. That weighs on Brown's shoulders. He's not afraid to acknowledge that. In fact, that is what pushes him.
"I want to come and out and do something special. I'm right here. I'm so close (to winning a championship). Every time I think about it, I get an adrenaline rush. Last year we took a loss. Ever since then I've been working to get back to that point. Now it is right in front of your face and you kind of feel the pressure," Brown said.
"I have a gold medal but I don't have a state championship. That's important to me. I'm going to do whatever it takes to get that. Last year, I didn't leave it all on the floor. I don't want that feeling anymore."
Up next is Newton, a four seed and the Cinderella of the AAAAAA bracket. The Rams (22-8) defeated Tift County in the first round and sent Dacula home in the second round. Last year in the tournament, Wheeler may have overlooked Shiloh in the second round, going to three overtimes to collect the win.
The lesson learned in that match-up will certainly carry over to the Newton contest this week.
"We are preparing for every team like they are the number one team in the country," Brown said. "We have to play everybody like we played Montverde. We have to treat every team like they are pros."
DEFENSE SHINES THROUGH FOR WILDCATS
The first three quarters of defense was as good as I have seen from the Wildcats all season long. Makhai Eastmond was outstanding as an on-the-ball defender and passer. The junior point guard probably doesn't get the credit he's earned over the years but he always seems to know who to take care of as a passer and will never back down from a defensive match-up.
"As a team, that's the best we've played against anyone from the state," Eastmond said. "In practice, we said all week that no one is going to beat our defense. We had to help the helper and treat every possession like it is our best play."
Darius Perry will be one of Georgia's true elite prospects in 2017. Defensively, he did what he always does - he went chest-to-chest with Douglas County's talented backcourt. Perry also came through on offense with 16 points and four three-pointers. Don't be surprised to see his recruitment turn into offers after the spring.
ROBINSON SHINES IN DEFEAT
In defeat, Douglas County guard Brandon Robinson was terrific. He emptied the tank in his final game of his junior season. The long and lanky guard scored 27 points in the loss. Robinson worked the baseline, played above the rim and shot well from the wing. The skinny guard has been is a priority recruit for a number of ACC and SEC programs. It wouldn't come as a surprise to see his recruitment take on a national flavor after the April live evaluation period.