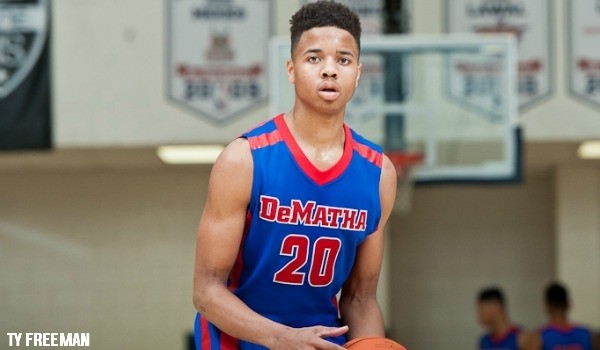 "What do you think of Markelle Fultz?"
That's a text that comes through the HoopSeen.com hotline about twice a week from an assistant coach at a high-major school.
We couldn't answer that question fully until really watching him at the Hilton Invitational. The answer now?
"Very good. Go recruit him."
The 6-foot-5 junior from DeMatha (MD) is one of the hottest prospects in the country right now and he showed why last weekend at Norcross High School. The fast-rising guard was a starter on DeMatha's junior varsity team a year ago.
On Saturday, he looked every big the top 50 level national prospect that he is (Scout.com recently listed him as the No. 36 rated player in the class) against Pebblebrook. DeMatha, the No. 7 ranked team in the country, beat the Falcons in a fun back-and-forth contest.
"It's a big win. Every win for us is a big win but for us to come to their state and win is a great win," Fultz said. "I think we did good. We had good defense and that's going to help us as we look to play in our championship at the end of the season."
DeMatha coach Mike Jones said the win over Pebblebrook was the best of the season. Fultz agreed.
"I think their guards and bigs are the most equal to us," he said. "They execute and they're a really good team."
Fultz is playing well in big games this season and he's starting to see the dividends of his time spent in the gym. Fultz said he currently has nearly 20 scholarship offers. They include: Texas, Arizona, Oklahoma State, Virginia Tech, Wake Forest, Memphis, South Carolina, Georgetown, Cincinnati, George Mason, Maryland, Miami, Towson, Washington, Xavier, Rhode Island, DePaul and High Point.
Schools like Kentucky, UConn, Louisville and Pitt are very much in the picture, too, he said.
"He doesn't complain about anything. If he's having a bad day, you don't know it. He's always got a smile on his face. That's the way he focuses on getting better," DeMatha head coach Mike Jones said. "He works his tail off in the classroom and on the court. He's one of the best teammates you can have and I just love coaching him."
To date, Fultz has been to the campuses of Xavier, Maryland and Louisville unofficially. With so much interest coming in, he said he's in no rush to drill down on the recruiting process.
"I'm just letting God do what he does. I'm just working on getting better. If they talk, I'll listen," Fultz said. "But my focus is getting better. I want to keep working each and every day."