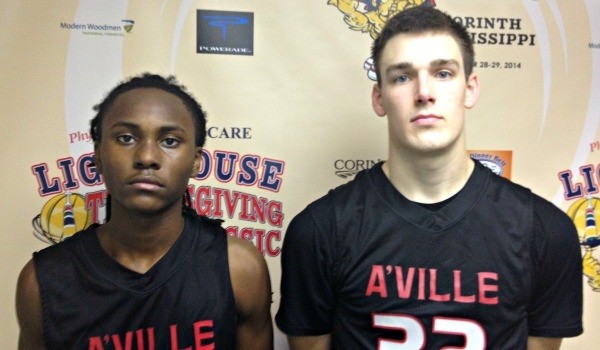 Despite the 2014 Lighthouse Classic being headlined by some of the top players in the country, Saturday, a couple of new names rose to the top for their respective squads and impressed everyone in attendance.
In fact, the opening game of the day started with a bang and proved to spotlight a couple of noteworthy players.
Adamsville (TN) defeated Biggersville (MS) by a score of 66-65 to open the day, and as expected, 2015 forward Tucker Campbell came to play. The 6-foot-5 wing was the difference-maker for his team, as he had an all-around game with 23 points, 14 rebounds, and five assists. Campbell's skill and shooting has some coaches at the next level intrigued. Several Division-II and NAIA schools are keeping tabs on him.
Dakorea Dilworth, a junior guard, played well while Campbell battled foul trouble. He finished with 26 points.
Here are the other standouts from Saturday at the Lighthouse Classic...
Devonte Spears, 2018 SG, Biggersville (MS): In a losing effort to Adamsville (TN), Spears was fantastic. The 6-foot freshman finished the game with 28 points, a high for Saturday. Spears scored from an assortment of places, but he did most of his damage from behind the arc and from the mid-range. He has great length for a guard and he will only improve as time goes on. He will be one to monitor for the next few years.
Felix Hayes, 2017 SF, Baldwyn (MS): Like Spears, Hayes was another gem that made a name for himself on Saturday. The 6-foot-1 wing is a tremendous athlete and that allows him to do many things on the court. The most impressive attribute of his game is his defense. Hayes plays with great intensity on the defensive end of the floor and it leads to results. He was a pain for some of Mt. Pleasant's (TN) best players. Hayes' build and strength also allowed him to finish well with contact at the rim. Here's another young guy to watch as his high school career goes on.
Jerekius Davis, 2015 SF, Provine (MS): Davis was one of the most talked about prospects of the weekend, and he left myself and a lot of other people in the stands asking, "How does he only have one scholarship offer?" The 6-foot-5 forward had another productive day with 19 points and 10 rebounds. Davis has a rare combination of strength and skill that makes him a tough matchup for opposing players. His physicality and skill-set will find him a home at the next level.
Donte Fitzpatrick, 2015 SG, Southwind (TN): The Ole Miss signee came in excited and anxious to play in front of a contingent of Rebel fans, and it showed at the beginning of the game. The 6-foot-5 scorer spent most of the first half searching for his shot from the perimeter. He had to settle for getting to the rim and shots around the goal, but as he got settled in, some shots started to fall. He finished with 25 points in a victory, as his team defeated Mississippi State signee Quinndary Weatherspoon and Velma Jackson.
Brandon Sampson, 2015 SG, Madison Prep (LA)/pictured above: Sampson is an electric scorer, but this weekend he did more facilitating and getting his teammates involved. The 6-foot-5 shooter made a living on driving and kicking/dishing to the open man throughout the game against Lee-Huntsville (AL). He finished with 18 points, six rebounds, and six assists, along with a couple of three-pointers.
Alterique Gilbert, 2016 PG, Miller Grove (GA): Gilbert is a fun player to watch, especially when he gets things going. The 6-foot floor general is as crafty a player as there is in high school basketball. He has a variety of moves and counters to keep the defense on its heels at all times. Against Callaway (MS), he came out shooting a lot in the first quarter and missed a handful of shots. However, after settling in, the stud point guard finished with 18 points and six assists. It's easy to see why Texas A&M head coach Billy Kennedy and an assistant were on-hand to strictly see him play.
Malik Newman, 2015 CG, Callaway (MS): The Texas A&M staff also got a good look at Newman, who has also reportedly been tied to the Aggies recently. Newman's scoring was halted a bit by some outstanding defense from Miller Grove (GA) throughout the game, but the 6-foot-3 guard excelled when his team needed him most. In the 4th quarter, Newman got to the free throw line seemingly every possession down the court. That allowed the Chargers to pull away in the finale of the event.
Moses Greenwood, 2015 CF, Velma Jackson (MS): Greenwood was one of the most consistent players from both days at the Lighthouse Classic. He is a double-double machine, and you can expect that from him each time out and he won't disappoint. The 6-foot-6 forward battled in the paint, as he was active around the rim on offense and blocking shots on defense. He is great physically and his toughness is second-to-none. He was easily one of my favorite players to see this weekend.
Antonio Green, 2015 CG, Tupelo (MS): Tupelo has a talented squad and Green is their best player, and rightfully so. The 6-foot-2 guard was named to the "Dandy Dozen" list for the state of Mississippi and it's easy to see why. He has great ball skills and is very creative with his game. He will made some mistakes from time to time, but he is successful more times than not. Green is also a streaky shooter from the outside, but once he catches fire, he's hard to contain. He finished with 18 points in a loss.