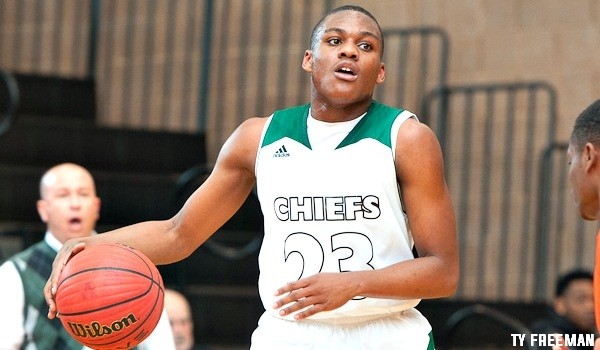 With experience comes maturity, and the McIntosh Chiefs showed a lot of maturity on their road to the Acworth Smiles bracket championship at the Lake City Classic.
A lot of that maturity showed when they faced some adversity in the Acworth Smiles bracket championship game against host team Allatoona.
After building a dominating lead in the first half behind great efforts from Dishon Lowery, who dominated the paint, and Jordan Lyons, who was great on the perimeter, the Chiefs found themselves in a tough situation.
Lowery picked up two quick fouls to start the second half, giving him four fouls. At first glance, with a big lead, it may not have seemed too bad.
In the beginning that first glance held true. Throughout the third quarter, point guard Will Washington made play after play and forward Chase Walter held down the middle, grabbing rebounds and playing very physically.
However, then the tides turned, and more adversity found the Chiefs.
In a short time after his return to the game, Lowery fouled out on a loose ball foul, which was then followed by a technical foul on the bench.
Seeing an opportunity, Allatoona senior forward Rodney Brown decided he would get his team back in the game. Brown, along with accompaniment from guards Ephraim Tshimanga and Chris Ifill, narrowed that lead, eventually getting it to one point with a minute to go.
Despite the raucous crowd and the pressure from the Bucs, McIntosh was able to hold their composure and find the guy who they leaned on for scoring all weekend, Lyons, who connected on four free throws in the last minute to seal the 60-55 win.
Lyons finished with 24 points en route to winning the bracket MVP. Chase Walter added 12 points and 10 rebounds, and Will Washington 10 points and 5 assists.
Brown had 20 points in the loss for Allatoona. Ifill tallied 13 with some great shooting, and Tshinmanga continued his good play with 8 points, 8 rebounds, and 7 assists, earning him All Tournament honors.