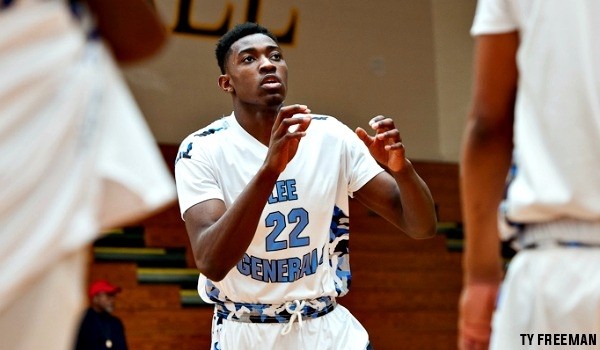 The second day of the prestigious Huntsville Times Classic tipped off on Saturday at Huntsville High School. Throughout the day, some of Huntsville's best teams and players proved their worth.
Here are the standouts from Saturday morning's action...
JOHNSON DOWNS AUSTIN
The talk heading into Day 2 of the tournament was the matchup between J.O. Johnson and Austin. While it was a lot closer than the final score shows, Johnson used a big second quarter to control the rest of the game, as they won 54-43.
The Jaguars were led by senior guard Terrion Bone, who had another impressive outing with 16 points. Bone's scoring ability and end-to-end speed and quickness kept the Austin defense on its heels throughout the game.
I feel like I'm beating a drum with a hole in it, but 2016 wing Justin Hopkins is the difference-maker for a talented Johnson squad. His consistency allows coaches to get what they expect every game, and that will be valuable moving forward as his game progresses.
Javan Johnson, a 2017 wing from Austin, quietly showed some promise on the court. At 6-foot-4, he still has some more growing to do and some weight to gain, but the lengthy wing was smooth with his game. He scored in a variety of ways, including hitting two three-pointers and a couple of mid-range jumpers for his 13 points. He also did a nice job of defending John Petty. Johnson will be one to track for the future in the state.

LEE HUNTSVILLE MOUNTS BIG COMEBACK
Madison County's stellar guard play came out and gave Lee-Huntsville some troubles in the first half of their second round matchup on Saturday. Seniors Faciane Edwards and Morgan Humphrey, along with junior guard Riley Webster, came out hot for the Tigers. They led Lee by a score of 19-2 at the end of the first quarter and they took a 13-point lead into the half.
However, a strong game from 2017 guard Malik Burnett helped the Generals remain in contention for their third straight Huntsville Times Classic crown. The 6-foot-2 combo guard scored 20 points in the victory, including four three-pointers. Burnett hit big shot after big shot for Lee during their comeback.
Edwards, a high-octane scoring point guard for Madison County, finished with a game-high 25 points.
Unsigned senior Gerron Scissum finished with 16 points and 10 rebounds for Lee-Huntsville. Ole Miss head coach Andy Kennedy and an assistant were in attendance to evaluate him, and an assistant from Murray State was there, too.
OTHER STANDOUTS
Jaquez Johnson, 2015 SF, Grissom: Johnson is off to a great start for his senior campaign, and Saturday's performance may have been his best game of the year. The 6-foot-5 forward finished with 24 points and 10 rebounds in a winning effort against Columbia. As usual, Johnson did much of his damage at the rim. He is relentless when driving to the basket, and many times he is able to draw fouls. The senior converted 8-12 from the charity stripe. Many Junior College programs have Johnson high on their list, and his performance from Saturday only helped his recruitment.
Damion Evans, 2015 SF, Columbia: Here's another wing that does a fine job of finishing at the rim and drawing fouls. Evans, a senior at Columbia, was the most efficient scorer for his team with 18 points. He did that on 6-11 shooting, including 6-6 from the free throw line. Evans has a great knack for finding openings in the defense and attacking. He showed that again on Saturday.
Josh Pearson, 2015 PF, Austin: I haven't seen many better rebounders than Pearson this season. At 6-foot-4, he sucks up anything that comes off the rim, whether it's in or out of his area. He has a hard time scoring for himself offensively, but he makes up for that with his play above the rim. Pearson had several put-back dunks and alley-oops during the first two days of this event.
Riley Webster, 2016 CG, Madison County: It's going to be tough to find a more heady player than Webster. The 6-foot-3 guard did a great job of running his team and showing his high basketball IQ. Webster hit shots, rebounded, and did everything else his coach needed for his team to be in contention. The coach is his father, of course.