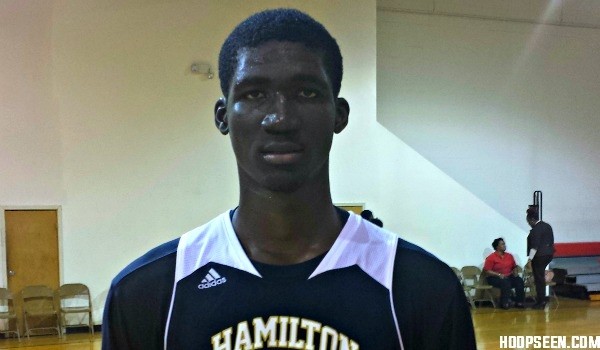 After a dazzling July, junior big man Abdul Ado of Chattanooga (TN) Hamilton Heights shot up the class of 2016 recruiting rankings. The 6-foot-10 rim protector shined at the Reebok Breakout camp and at the Nike Peach Jam with the Georgia Stars.
He was one of the hottest names in his class and is now in the heat of his junior campaign. HoopSeen.com saw the five-star post against a big Marietta (GA) Covenant Christian team in a terrific back-and-forth game.
Ado didn't disappoint. He shined on the defensive end in a physical game against worthy opponents. Ado finished with 24 points (9-10 FG, 6-8 FT) and 12 rebounds.
"You want to come out and compete every single day. You want to come out and play hard. When you play these types of teams, it makes you stronger," Ado said after his team's 76-68 win. "I want to try to improve every day and playing teams like this will help you in the future and in college. You have to bring it."
Ado brings it. There's no doubt about that. He impacts the game with his length on the defensive end of the floor. Ado attributes his length to his success.
"My friends joke with me and say that I grow every single day. I told them that I don't want to grow, I just want my arms to stay long," Ado said. "My wingspan really helps me. With my vertical and my length, I'm good."
There's a number of programs that think he's good, too. Louisville, Memphis, Vanderbilt and Tennessee have offered a scholarship, according to his high school coach Zach Farrell.
Ado has taken visits to each of those schools during the summer and into the early fall.
"You get good exposure when you take those kinds of visits. I don't know a lot about them so to see them, I like that kind of exposure. It's a really good experience for a guy like me who has only been playing for three years," he said.
"I was zero percent when it came to my knowledge of colleges. I just wanted to wake up and be in the NBA one day. I just thought you have to work hard to get there."
According to Farrell, Arizona State, Georgia and Penn State are also recruiting him. Has anyone impressed Ado in the process?
"I've developed a relationship with Tennessee, Louisville, Memphis, Vanderbilt and Texas. (Texas) came all the way to Tennessee just to see me play. It's a really good opportunity for me. We have a good relationship," he said. "Every school that school that has offered me is standing out to me."