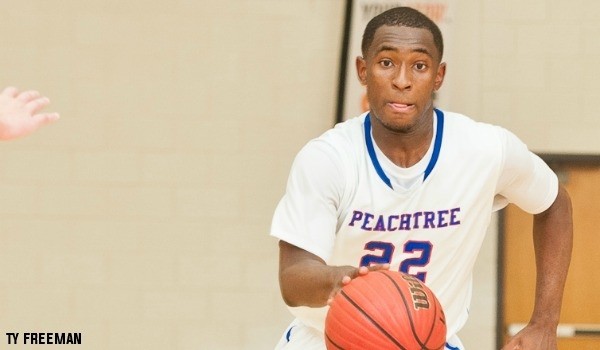 Aaron Augustin knows how make an entrance. The junior point guard from Peachtree Ridge (GA) High School was one of the real standouts at the Jared Cook Classic last week.
Not only did he shine as one of the top players from the event, he helped spearhead his team to two big wins and helped snap GACS's 52-game win streak. Since then, the Lions have cracked the Top 20 Georgia Power Poll.
Augustin said he didn't want to see his team get off on the wrong foot this season in what will likely be another very competitive season in Gwinnett County.
"Last year at the Jared Cook Classic, we started bad. We went 0-2," Augustin said of his team's losses to Miller Grove and Buford. "This is my junior year and I wanted to show everyone my leadership and lead the team. The responsibility is on me now. So, I wanted to start off good and get things going the right way. We knew GAC had a 52-game winning streak. We knew that if we beat them, we'd be on the map a little bit."
They're on the map alright. Augustin, one of Georgia's top juniors in the state, is in terrific shape and showed off all of the elements to his game at the JCC. He shot very well from deep and was as good as a point guard we've seen in the state thus far into the young season.
"My biggest jump is in my jump shot and my leadership ability," Augustin said. "Last year I didn't know if I should lead or if I should stay back and let guys like Amir (Warnock) take the lead. Coach (Keith) Arrington told me after the season last year that this was my year to take over the team. I'm going to make sure I'm comfortable with myself. I know my game now. Last year I didn't really know what I wanted to be. I'm comfortable with that now."
College coaches like the comfort zone Augustin is in now, too. To date, Presbyterian, Georgia Southern, Georgia State, Mercer and Middle Tennessee State have offered a scholarship, he said. Mississippi State, Florida Atlantic and Georgia Tech are also interested.
Augustin said he has visited Tennessee during the summer and went to Furman and UGA in the fall.
As the schools start to roll in with recruiting interest, Augustin wants to focus on the season and finishing like they started - at the top and winning.
"The main thing really drives us is proving people wrong. We lost a good player in Romello White (he moved to Florida's IMG Academy). We can't replace a skilled 6-foot-9 guy. People have already counted us out but I think Gwinnett County is wide open," he said. "I definitely think we can win it all."