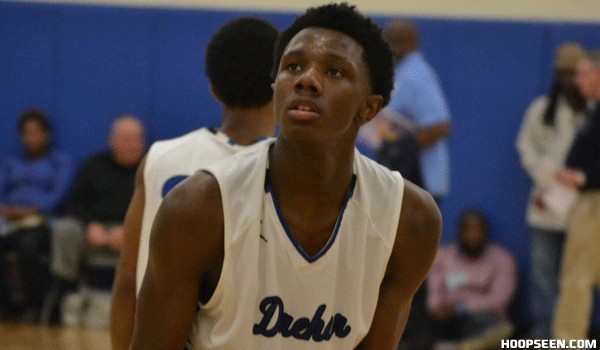 National Signing Day is right around the corner and Garrett Tucker takes a look at some of the key storylines for some of the top players in the South in this week's Tucker Topics.
DECISIONS COMING SOON FOR SOUTH CAROLINA DUO
Two of the top players in the state of South Carolina are moving towards their commitments.
P.J. Dozier, one of the top remaining guards remaining on the board in 2015, made his last visit over the weekend, as he saw Louisville. Now, he is moving towards a decision.
Dozier's father, Perry Dozier, Sr.,  has told multiple reporters that his son will make his college decision this week, and then an announcement will be made on ESPN on National Signing Day. From the sounds of things, Louisville has made up ground and is right in the hunt for the 4-star guard, along with South Carolina.
What's at stake here?
South Carolina has a chance to keep one of their top targets in-state. It is likely Dozier would be one of the key pieces in what Frank Martin is rebuilding at South Carolina. He would also continue the family tradition, as his father played at South Carolina.
As for Louisville, Rick Pitino would get his point guard for the 2015 class, and Dozier would round out what is a nice class for the Cards. If Dozier does choose Louisville, he would join athletic guard Donovan Mitchell, wing Deng Adel, and big man Raymond Spalding.
Things aren't as clear-cut for Tevin Mack, a 6-foot-6 wing, who is considering South Carolina, UConn, VCU, Georgia, and Clemson. A lot of things are being thrown around here, but from the looks of things, Mack will be leaving the state.
A timetable for Mack's decision hasn't been set, either. We just know that a decision should come very soon. No one knows what to expect at this point, and one coach involved in this recruitment said it best: "he's all over the place right now."
MOVE COMING FOR MALIK?
Five-star guard Malik Newman made some noise on Twitter earlier in the week with a tweet that said he was preparing to leave Jackson, Mississippi. While nothing has been official about this tweet, it is something to look at. At one point, there was speculation that Newman would end up at Prime Prep in Dallas. Sources have told HoopSeen.com that a move to Dallas won't happen and never really had legs to begin with.
Then again, the tweet may have no truth or importance to the nation's top guard. At this point, the coaches involved in his recruitment know nothing about him moving or transferring schools.
BATTLE OF THE BEST
Over the summer, Gill St. Bernard (NJ) wing Tyus Battle emerged as one of the top players in the 2016 class. His production and potential shown on the AAU circuit with Team Scan made him a popular prospect amongst some of the best programs in the country.
Battle cut his list of 30 scholarship offers down to a manageable list of 11 schools: Connecticut, Duke, Florida, Kentucky, Louisville, Miami, Michigan, Ohio State, Syracuse, Villanova, and Virginia.
While there is still a ways to go in his recruitment, I expect Duke, Kentucky, and Syracuse to be the teams to beat in this recruitment.
UT-CHATTANOOGA GOES BIG
UT-Chattanooga added a commitment from 2015 North Cobb Christian (GA) center Trey Kalina on Monday evening. If everything pans out, Will Wade could have a nice big man in the future.
Kalina, a 7-footer, has plenty of room to grow on the offensive end of the floor. However, he will be an impact on the defensive end from day 1. HIs length and mobility as a big man will be very valuable for a program like Chattanooga and their style of play going forward.