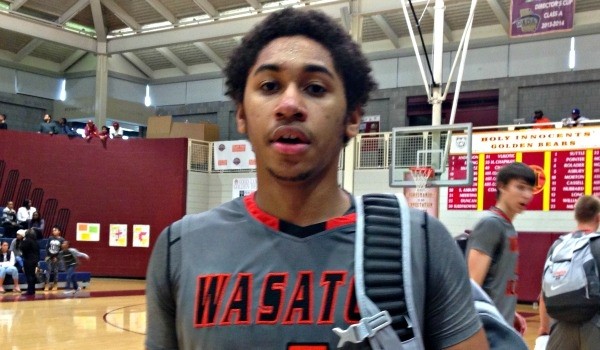 After a great first day of the Holiday Hoopsgiving Tournament at Holy Innocents, Day Two did not disappoint. Here are some quick takeaways from the day of basketball.
Georgia's 2017 & 2018 classes will be fun to watch develop
The underclassmen in this event were nothing short of great. It all starts with 2017 Pace big man Wendell Carter. Carter was a monster on the boards both days and created a number of plays that will be bound for YouTube in the next couple days. Other notable underclassmen were 2018 Holy Innocents PG Travis Anderson and Greenforest 2017 forwards Bebe Iyiola and Victor Enoh.
Could Holy Innocents be the real deal?
Holy Innocents showed a lot of growth throughout the HoopSeen Fall League. On day two of the Holiday Hoopsgiving Tournament, they continued to prove themselves in a blowout win of Madison Academy. As previously mentioned, they have a great floor general in freshman point guard Travis Anderson. They also have great shooters on the outside in Sam Asbury and Cole Smith as well as some strength down on the block in Brent Duncan. As a team, they mesh very well and have an undeniable chemistry. Look for them to be competitive in AA with their complete team efforts.
Greenforest is a tough, physical bunch
Greenforest is coming off of a disappointing 2014 state playoffs, losing in the first round as the number one seed. However, they looked like they have a chip on their shoulders coming into the season. They are big, physical, and get great play from both the backcourt and frontcourt, especially on the defensive end of the floor. They limited a talented Northside Christian (NC) team to just 53 points, playing a high pressure, physical brand of man-to-man defense. Justin Ravenel, John Ogwuche and Precious Ayah also gave great efforts on the offensive end as well in the 54-53 win.
Travon Hardin might have next in Alabama
Coming off of a 27-point performance, Columbia (AL) sophomore guard Travon Hardin was the offensive answer on day two for the Huntsville squad when they were having trouble scoring. Hardin was dialed in from deep and knocked down some big shots down the stretch in a comeback win against Stephenson. Hardin is a player to look out for in Alabama in the 2017 class.
Other quick notes:
Stephenson senior Daniel Kinchen is one of the better unsigned seniors in Atlanta. He usually gets pegged as a shooter, but he showed versatility to his game, getting into the paint, scoring around the rim, and distributing.
High Point Christian (NC) has a pair of Division I 2016 prospects that are very interesting. Both Aaron Adair & Ben Robertson are big, skilled players who do a little bit of everything. They will be names echoing throughout NC this year.
Wasatch Academy (UT) came a long way to the event. The guy who really impressed in their win over Pace Academy was senior guard Cody John (pictured above), who has a great feel for the game and a Division I skillset.