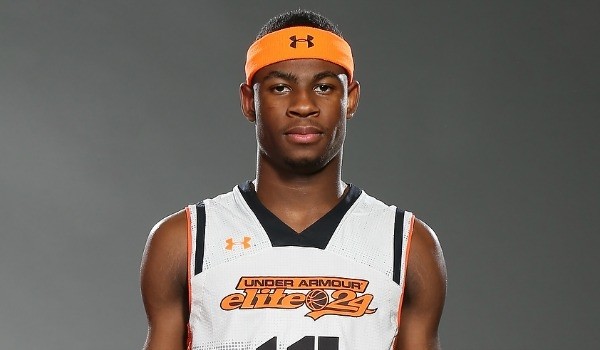 The second-annual Lighthouse Classic played host to some of the Southeast's best players and teams on Friday. While several players had impressive showings, 2015 Jackson (MS) Callaway guard Malik Newman stole the show on the opening night of the event.
Newman lead Callaway with 32 points, 9 rebounds, and 9 assists in a 95-64 win over Madison Prep (LA). The 6-foot-3 guard displayed his scoring ability in a variety of ways to score, including deep three-pointers and contested layups. Fighting through double-teams and help defense, Newman made his case as the top player in the country.
Here are the other standouts from Friday…
Dimencio Vaughn, 2015 SF, Callaway (MS): Newman wasn't the only player to make noise in Callaway's big win. Vaughn, a native of New York, finished his night with 28 points. The New York product was locked in from 3, as he drained several shots from behind the arc. The 6-foot-5 wing plays with a high motor and is very tough, making him a coach's dream. He needs to be on the radar of mid-major coaches at this point in the year.
Quinndary Weatherspoon, 2015 SG, Velma Jackson (MS): The Mississippi State signee drew a big crowd for his game at 3:30, and after a slow start, he gave the fans what they wanted. Weatherspoon's shots weren't falling in the first half, but he came out in attack mode in the 3rd quarter. He found ways to get to the free throw line and his jump shot followed. Behind a big second half push, Weatherspoon finished with 28 points.
Jaylen Fisher, 2016 PG, Bolton (TN): Like Weatherspoon, Fisher, one of the top point guard prospects in 2016, had a slow first half. He fought foul trouble early in the game and was held scoreless against a talented Corinth (MS) team. However, Fisher turned things up in the second half with 14 points. His quickness and change of speed is unbelievable, as it allowed him to get loose on the offensive end.
Jerekius Davis, 2015 SF, Provine (MS): Davis was another player I was very impressed with to open the day. Against Lee-Huntsville (AL), he was automatic with his mid-range jumper. He hit several shots to open the game and ended up with 21 points. He had a quiet second half offensively, but he proved he could be a player on the defensive end with his shot-blocking ability.
Joshua Anderson, 2017 CG, Madison Prep (LA): Madison Prep's Brandon Sampson had a hard time finding his rhythm to open up the night, but Joshua Anderson made up for his slow start. The 6-foot-4 guard made a name for himself with 20 points. He got to the rim and finished, as well as hitting shots from the perimeter. Several high-major schools are already showing interest.
Jordon Varnardo, 2015 CF, Haywood County (TN): Varnardo didn't necessarily have the game he hoped to have, but he still showed flashes of what he can be at the next level. He battled down low with Velma Jackson's Moses Greenwood throughout his game. At 6-foot-6, he can play inside and outside, using his versatility and athleticism to advantage. His game still needs to improve, but Varnardo is one that could be a nice snag for a mid-major team in the future.
Gerron Scissum, 2015 CF, Lee-Huntsville (AL): Scissum continues to show his versatility as a player. At 6-foot-8, he can play anywhere from the 1-5. He spent a lot of his time on Friday night as the point guard for Lee, pushing the ball up the court and setting up the offense. He scored the ball around the rim and extended his shooting out to the perimeter with some nice shots. He is one of the best available bigs in the South, and as time progresses, he will only become more popular.
Trae Burcham, 2017 SG, Corinth (MS): Burcham was the best pure shooter that came to play on Friday. The 5-foot-9 sophomore led Corinth with 18 points and a handful of three-pointers in their loss to Bolton.
Aaron Anderson, 2016 SF, Bolton (TN): Anderson was a very big surprise on Friday. With Fisher in foul trouble, the 6-foot-7 forward provided a spark for his team. He drilled several three-pointers in the first half to keep his team in it. He has length and athleticism and runs the floor very well. The scary thing is, this is his first year really playing basketball, according to his coach. He will be one to monitor as we head into AAU season.

RECRUITING TIDBITS
Troy had an assistant in attendance to see Haywood County's Jordon Varnardo and Velman Jackson's Moses Greenwood. Tennessee Tech, Tennessee Tech, and Troy are the main schools involved with Varnardo right now, with the Trojans being the favorite.
Xavier, Southeast Louisiana, and several community colleges are keeping tabs on Greenwood.
2016 PG Jaylen Fisher listed offers from Memphis, UConn, UNLV, Tennessee, Baylor, Arkansas, and Florida. He was in attendance for Memphis' midnight madness a few weeks ago.
2015 forward Jerekius Davis has an offer from Southern Illinois. He visited the campus in October. Southeast Louisiana and Southern Miss are also involved.
Several schools are keeping tabs on 2015 Callaway (MS) wing Dimencio Vaughn. David Sanders, his head coach, mentioned St. John's and Hofstra as some schools. Many more are recruiting him and he remains wide open.
2017 combo guard Joshua Anderson is receiving interest from USC, Stanford, LSU, and Oklahoma State. No offers yet for the sophomore.