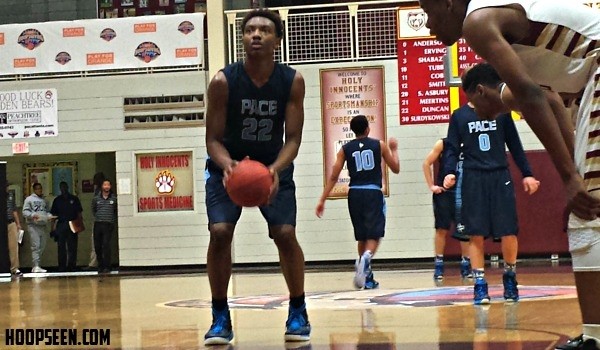 ATLANTA, GA -- The Holiday Hoopsgiving opened up in fine fashion on Friday at Holy Innocents' School as some of the best players in the South lived up to their billing.
CARTER GOES CRAZY ON GLASS
In a game that was riddled with fouls, physical play and back-and-forth action, Atlanta (GA) Pace Academy big man Wendell Carter stood in the paint and shed the opposition to reel in 26 rebounds and helped his team beat Huntsville (AL) Columbia 69-55.
Georgia is a state that has long been known for having game-changing post players. This year, however, the state is all about the guards. Tone-setting post players are few and far between these days so when Carter, a long 6-foot-10 paint presence, comes into the game he's instantly the main focal point.
For some young players, that kind of spotlight and expectation may be difficult to handle. For Carter, he passed his first test on a big stage with his new Pace team. Columbia sent bodies - big, strong and athletic bodies - at him all game. Carter won nearly every battle. His work on the glass could go down as one of the best rebounding games not only this season but one of the best we've seen since launching HoopSeen.com.
Carter scored 23 points and did a fine job at the foul line, converting 13 of 20 from the charity stripe. Already considered a top 25 level player in his class, Carter proved himself as Georgia's top overall big man in the state.
LANGFORD LAYS IT ALL OUT
Josh Langford and his Huntsville (AL) Madison Academy team lost to Douglas County on Friday night 76-73. That's the bad news for the 6-foot-4 five-star prospect and his teammates.
Other than that, and individually speaking, Langford was just tremendous. The junior impacted the game in every category. He was the most dominant player on both ends of the floor, the best passer, rebounder, scorer and shooter.
Langford scored 30 points, grabbed 15 rebounds, handed out eight assists, collected three steals and blocked three shots. He also scored his 2,000th career high school point two minutes into the game.
Alabama head coach Anthony Grant and assistant coach John Brannen were on hand to see Langford.
DOUGLAS CO. MAKES STRONG STATEMENT
Douglas County, playing nearly the entire game without star junior Brandon Robinson because of injury, earned their victory over Langford and Madison Academy. It was a total team effort.
While Robinson isn't a dominate-the-ball kind of talent, he's certainly an impactful one. The 6-foot-5 junior glues all of the talent together with his passing and basketball smarts. Without him, it was going be interesting to see how the team did against a quality opponent in Madison Academy and elite player like Langford.
For Douglas County, senior guards KJa Johnson (Florida A&M signee) and Correy Tillery and junior guard Kalen Clifton combined for 48 points in the win. Tillery pumped in four threes while Johnson scored at the rim and Clifton converted in the midrange.
Senior big men D'Ondre Glenn and Elisha Johnson added 22 points and 15 rebounds in the win.

HI, WE'RE JENKINS
We brought it up in our preview of the Holiday Hoopsgiving and it bears repeating: Jenkins will be a team to be reckoned with. The Savannah crew opened things up on Friday with a hard-fought win to open their season. North Cobb Christian made it a game but the Warriors pulled it out 65-55.
Sophomore Trevion Lamar scored 22 points and grabbed 11 rebounds while Georgia State bound senior Malik Benlevi put in 15 points.
"Every time we come to Atlanta we don't come thinking about being the best team in Savannah. We come thinking we want to prove that we are one of the best teams in the state," Benlevi said.
When the Power Poll comes out on Monday, the Warriors will be quite high, cementing home the point Benlevi was making.
The biggest revelation of the game was the play of Lamar. The 6-foot-4 do-everything sophomore small forward was fearless in his output. He was the day's biggest revelation.
NEWS FROM THE NOTEPAD
Rayjon Tucker, a steal for Florida Gulf Coast, put in 17 points in typical Rayjon Tucker fashion - with bounce and flair. He helped Northside Christian bring home the victory over Stephenson.
Pace Academy junior wing forward Zach Kaminsky was impressive in his team's win. He attacked the rim with good bounce and speed.
Future Chattanooga big man Trey Kalina enjoyed a big day in the paint for NCC. He posted 17 points, nine rebounds and six blocked shots in a loss to Jenkins
Jalen Dampier helped spear head a second half comeback for NCC, cutting the lead to as little as six with less than two to play in the game.
Huntsville Columbia sophomore guard Travon Hardin scored 27 points in his team's loss to Pace. He was on attack mode the whole game. Nice output in a defeat from the 5-foot-11 backcourt player.
North Cobb Christian sophomore forward Will Crumley has a chance to be a good player in time. He's skilled and big for his combo forward position at 6-foot-7. Crumley played well in the Georgia Cup last season and the HoopSeen Fall League at SSA Cobb. He could develop into a very productive player for head coach Greg Matta in time.
Daniel Kinchen and Tyrell Johnson both had good moments in Stephenson's loss to Northside Christian. Kinchen, a thin 6-foot-3 shooter, knocked down four three-pointers. Johnson, also thin, is active as a 6-foot-8 forward. He finished with a team high 17 points. Both are unsigned seniors.