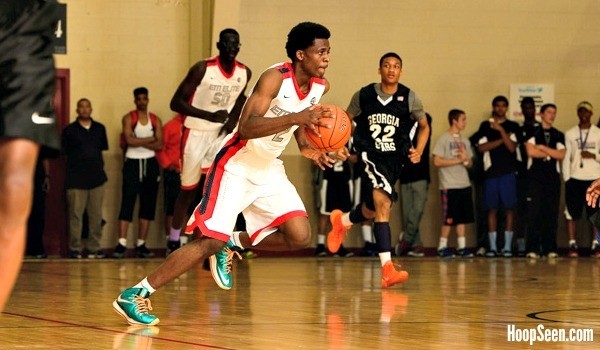 In this edition of the Tucker Topics, the midnight madness train continues. Last week Kansas hosted a big weekend. Who will it be this weekend?
Also, we take a little "biased" look at recruiting from an Alabama point of view. The state has been very busy in recent weeks, and it looks like it will continue in the future.
MIDNIGHT MADNESS CONTINUES
Last weekend, it was Kansas and Missouri utilizing midnight madnesses for their recruiting efforts. This week, the ball rolls to a couple of other schools that know how to keep the midnight madness part going all night long.
Like Kansas, Kentucky is scheduled to have numerous five-star prospects on campus for Big Blue Madness. Malik Newman, Jaylen Brown, Stephen Zimmerman, Carlton Bragg, Brandon Ingram, Antonio Blakeney, and Charles Matthews (a UK commit) are the seniors expected on campus this weekend.
There will also be underclassmen at the event, including 2016 Henderson (Nev.) Findlay Prep point guard Derryck Thornton. Nevertheless, expect John Calipari to try to 'wow' the seniors, as he could lose more than five players to next year's NBA Draft.
Calipari's former school, Memphis, is also expecting an exciting weekend with hip hop artist Rick Ross as the feature entertainment.
The Tigers will also have some impressive prospects in the stands. Memphis commitments K.J. and Dedric Lawson will be in attendance, along with the top remaining target for Josh Pastner, Skal Labissiere.
The junior class is expected to be represented by Abdul Ado, Micah Thomas, Jaylen Fisher, and Nick Marshall, who is also committed to the Tigers.
Kentucky and Memphis are two of the schools in the Southeast that will hold big events, but one of the more interesting events will take place out West.
Arizona is holding their annual Red-Blue scrimmage and their list of visitors could raise some eyebrows.
2015 commitments Allonzo Trier and Justin Simon will be in attendance, but the most intriguing prospects will be 2015 big Caleb Swanigan and 2016 forward T.J. Leaf.
Sean Miller and his staff have come on quite strong for both of these prospects in recent weeks. It looks like Swanigan could be poached out of the Midwest by the Wildcats. My Crystal Ball pick currently favors Arizona.
ALABAMA WORKS IN-STATE KIDS
Alabama received a commitment from 2015 Theodore (Ala.) guard Dazon Ingram Monday night. If you're counting at home, that's three senior players from the Alabama Challenge AAU program that have committed to the Crimson Tide.
Ingram joins Luverne center Donta Hall and Carver-Montgomery wing Brandon Austin.
Anthony Grant and his staff have done a phenomenal job in the past of recruiting the state of Alabama. Last year, the Crimson Tide added Justin Coleman (Birmingham), Riley Norris (Albertville), and Jeff Garrett (Gadsden).
The Class of 2016 and beyond will be a challenge, though. With Bruce Pearl and Auburn making it clear that they will also recruit the state hard (especially the young players), it looks like the rivalry will only continue to hasten on the recruiting trail.
MURRAY STATE DOUBLE DIPS
Several mid-major coaches have told me time and time again that they love to recruit the state of Alabama. No, there isn't necessarily firepower at the top of the board, but there are plenty of under-the-radar kids throughout the state. Just ask Murray State.
The Racers dove into Alabama Tuesday and picked up a commitment from 2015 Tuscaloosa County (Ala.) forward Cletrell Pope. They already had a commitment from his teammate Justice Green.
They are also expected to be in the running for another Alabama native who will make his decision soon: Lee-Huntsville's Gerron Scissum.
BIG THINGS COMING FOR HARVEY
Keeping it going with the state, Alabama native D.J. Harvey has had a couple of impressive weekends in a row. He was a standout at the Team USA minicamp in Colorado Springs, then again made some noise at the John Lucas Midwest Camp in Louisville this past weekend.
According to several outlets, Harvey was the most impressive player from both events, and he is already reaping the benefits.
Arizona offered the 2017 Hyattsville (Md.) Dematha star earlier in the week. He also has offers from NC State, Xavier, Houston, Texas, Memphis, Tennessee, and Miami, with interest coming from other blue-bloods, including UCLA, UConn, Louisville, Kansas, Florida, and Duke.