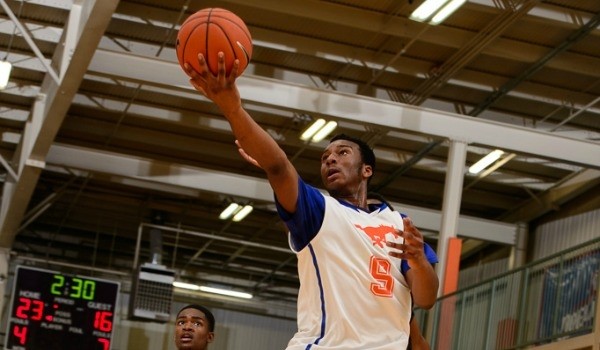 There was a familiar image on HoopSeen.com and our social media outlets all travel season. A smiling Josh Okogie stood amongst his teammates holding a trophy.
The class of 2016 wing was the recipient of multiple Most Valuable Player awards and several tournament championships at Suwanee Sports Academy. The 6-foot-4 junior racked up the awards as an individual and as a member of the Southern Stampede 15 and under team.
Okogie was one of the most productive players at SSA in 2014 and never took his foot off the gas.
"I thought my summer was real successful but I can't stay complacent," Okogie said at the recent Gwinnett County Media Day.
Don't count on that. Okogie is one of the most active players in the state of Georgia. He's a ball of energy and a player that values producing wherever he can help. His high school coach Kim Rivers says Okogie masters the art of getting the job done.
"He's Kidd-Gilchrist with offense," Rivers said matter-of-factly. "He's long, he's lanky and he's got all of the intangibles," Rivers said. "When we need a steal, he'll get a steal. When we need a rebound, he'll get a rebound. When we need a score, he's going to get us a score."  
That description fits perfectly. Okogie echoed the sentiment.
"Most people say all I do is score but I just try to do everything 100 percent," he said. "I see myself doing things that the average player doesn't do. If I see a loose ball, I'm going to get up as soon as I can to get out on the fast break. I just want to do everything possible to win."
Despite being one of Georgia's top 30 juniors, Okogie remains a bit of a sleeper for college coaches. His recruitment is quiet by comparison to others in his class. Okogie did go to Clemson's camp over the summer.
"I'm focused on the state championship. Colleges can come into my focus during the summer. Right now, my mind is on the championship," Okogie said. "Last year didn't feel so good losing to a good team (Wheeler) in triple overtime (in the state tournament). We have to learn from it."