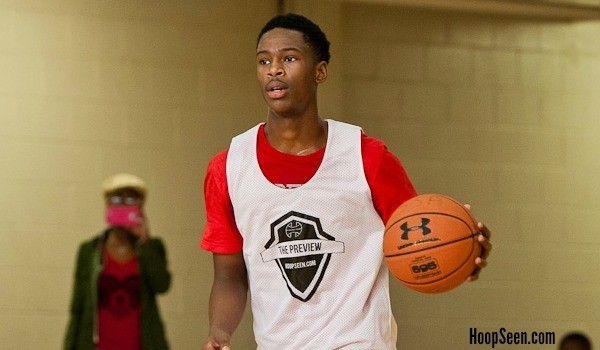 The class of 2017 was well-represented at The Fall Preview on Sunday at Suwanee Sports Academy. The sophomores brought their games and battled until the very end. Here's our top overall performers from the class from our loaded event.
Isaiah Banks, SG, Heritage - There are no plans to release a class of 2017 Georgia rankings here on HoopSeen.com any time soon but understand this: Banks will certainly be on our first list whenever they are published. And chances are, he'll be pretty high on the list. The strong-bodied and athletic guard has a frame that the high major prospects have. He's got the bounce, too. Banks will need to continue to work on his ball-handling and jumper but the base skill set is there to watch for the high-major programs. He also earned an invite to The Elite Preview in March 2015.

Brian Coffey, PG, Greater Atlanta Christian - Meet one of Georgia's top point guards. He's getting stronger both physically and in game production. The 6-foot guard could be one of the state's real breakout stars in the sophomore class this year. He's coming off a good travel season where he learned on the court and in big games. At The Fall Preview, he was one of the best point guards in a gym of good point guards.

Greg Couson, PF, Wilkinson County - Middle Georgia always has a big-bodied post player that pushes people around with little thought or care. Couson is that guy in 2017. The 6-foot-6, 210-pound post player has a nice soft touch inside the paint.
Justin Forrest, PG, Greenforest - We never grow tire of watching the running back in a point guard's body play. He's smart, strong, tough and always playing with purpose. Forrest is one of the better scoring point guards there is in the class.

Tae Hardy, SG, Southwest Dekalb - A repeat player at our Preview series camps, Hardy knows what we like - hard-playing, non-stop energy guys. Hardy shines when that is the name of the game. Because of that Hardy's name is and was a popular one with our staff of evaluators. He's starting to really separate himself on the defensive end of floor. We've always known he can score. Now he's becoming a game changer on the defensive end.

Josh Jackmon, PG, Miller Grove - College coaches like point guards with size. Jackmon has both. The point guard class grows deeper and deeper in the 2017 class and Jackmon will be amongst the better players at the position moving forward.

Michael Joseph, PF, North Gwinnett - The 6-foot-4 post player is a constant figure in our training programs here at Suwanee Sports Academy and it was fun to hear our in-house staff say "Mickey keeps getting better". We had a number of players like Joseph at The Fall Preview that participate in our skill development program - Hoops 360. Joseph was able to put to use the things thought there against the state's best. Overall, he had a nice camp in the paint doing the right things at the right times.
Calder Marria, SF/SG, Jonesboro - The defending state champs have a warehouse full of talent coming back this season. The scary thought is what's coming up behind last year's starting lineup. Guys like Marria have next. The 6-foot-3 guard is big and strong and can handle the rock with confidence. He'll be raised up to play hard, competitive and strong. That's a good base to build on moving forward. Marria is certainly on our watch list now.
Alex O'Connell, SG, Milton - Back in March, O'Connell was one of the youngest (and smallest) players at our Elite Preview. Fast forward to current day and he's sprouted up a couple of inches and coming into his own as an intriguing prospect. It has been fun watching his game open up at the HoopSeen Fall League at Suwanee Sports Academy Cobb. Now at 6-foot-4, O'Connell has good size for the wing and showing that he's one of the top guys to watch in the sophomore class. Athletic and fast, O'Connell is a quality scorer. Important growth year ahead at Milton.

Darius Perry, PG/SG, Wheeler - If you've read this site regularly over the years you know our appreciation for Perry's game. He's one of the best combo guards we have seen in the South from the class of 2017 and he did nothing to deter that opinion. A big role awaits him at Wheeler and how he plays at the point guard spot will be good for his development moving forward.

DeAndre Robinson, SF, Monroe County (AL) - Hello! Talk about a nice surprise from camp. The 6-foot-4 wing did just about everything. He shined on the glass as a rebounder, played well as a defender and used his length and athleticism to create some buzz. Overall, it was a very nice showing from the young Alabaman.
Collin Sexton, PG, Hillgrove - We asked players to be vocal and coaches on the floor. That plea was especially meant for point guards. Sexton heeded the call and was one of our most vocal players at camp. He was a leader on his team and directed his collection of strangers well with leading commands. Very nice show of leadership from Sexton. As a player, he has good speed, a nose for scoring and fearlessness to his game. Big opportunity awaits him at Hillgrove this year.

Joshua Scott, PF, Rockdale County - The 6-foot-8 young post player may not have racked up big numbers at The Fall Preview but he did rack up a lot of comments that sounded like this "He's going to be pretty good." Exactly. Scott has unique length for his position and is starting to see the benefit of being a vertical post player. Time is his best friend right now but as we project forward, Scott has a lot of similarities former UGA big man Donte Williams had at the same age.
Lance Thomas, SF, Norcross - Five minutes into camp, the 6-foot-8 forward stepped on an opposing player's foot and fractured a small bone in his own wheel. Game blouses. Thomas was done. That was disappointing. Nevertheless, Thomas is one of Georgia's most intriguing young prospects and will be fun to watch this upcoming high school season.

Gavin Williams, SG, Pinewood Prep (SC) - Built like a free safety, this Palmetto State prospect played all over the court and could be trusted playing the one, two and the three. The 6-foot-3 guard used his versatility to make our evaluators take notice. When you're building out a 2017 players to watch list over the next 12 months, put Williams name on it. We like the first impression that we saw on Sunday.

Sophomores Rayshaun Hammonds, Bebe Iyola and Davion Mitchell were featured in our top performers report. You can read that full report HERE.