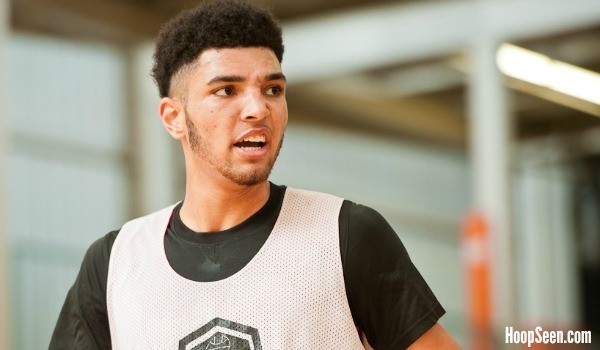 As we empty the notebooks and evaluation sheets from The Fall Preview, our coaches from Sunday's camp look back at the class of 2016 players that participated in our loaded camp. These juniors stood out.
Sean Agnant, SG, Brookwood - The active and athletic guard has used the Fall League to play his way onto our radar. At The Fall Preview, we wanted to see how he would compete against other quality guards of similar skill set. Agnant played well and held his own. He's an athletic guard that shines as a slasher. His fall play has set him up with good confidence going into the high school season.
AJ Cheeseman, PF/C, Duluth - The wide-body post player will be one to watch this season. He's certainly a presence in the paint. The 6-foot-6, 220-pound Cheeseman has soft hands and a nice touch around the cup. Would like to see more from him on the glass but has the natural tools to be a prospect to watch this high school season.

Chris Clerkley, PF, Perry - When you look at players from outside the Atlanta area that are primed for a breakout season, look no further than the 6-foot-9 big man from South Georgia. Offensively, he's as skilled as they come. He can stretch the floor with a confident jump shot. Clerkley can consistently score from the perimeter all the while finishing in the paint. His passing really shined through in game play on Sunday. It was a nice wrinkle to his game. Clerkley earned an invite to The Elite Preview thanks to his performance at camp.
Cameron Cox, SG, Creekview - How do you shine as a shooting guard when you aren't shooting or scoring? You defend and rebound. Cox, a constant top performer at our Georgia Cup series, was one of the best defenders and rebounders at his position at The Fall Preview. He finished at the rim and knocked down his open three-pointers.

Walter Cunningham, PG, Arabia Mountain - One of the nice surprises of the day. He's super quick, good on defense, incredibly coachable and speedy on offense as he continually attacked the rim. There was never a question about effort or purpose.

Malik Chandler, SG, Shiloh - The experienced guard is a spot up shooter that can create his own shot. He's a big, strong guard that played well on the offensive end at The Preview. Shiloh was a nice surprise last season and Chandler helped with the team's post-season run. He'll be a big part of another march to Macon this season.

Jordan Lyons, SG, McIntosh - Shot-maker, really good shot-maker. That's the Cliff Notes version of the scouting report on the junior from the south Atlanta suburbs. There's a uniqueness about Lyons and his ability to knock down shots. Few do it better than him. He knows how to dial it in from deep and is good enough to trust him with the ball in clutch situations. He's earned scholarships because of his specialist skills. What gets lost in the shuffle is his toughness. Lyons is gritty and good enough to further develop his lane penetration skills.

Connor Mannion, PF/SF, Lambert - Mannion played well on the Georgia Cup circuit for the Atlanta Warriors and we were excited to see him play on The Fall Preview stage. He's a big presence at the top of the key and a skilled four man that can really pass. Playing for Scott Bracco at Lambert, Mannion could be in store for a big year on a very good team. Don't be surprised to see things take off for him this season.
James Mays III, SG, Lovejoy - The 6-foot-2 guard is wired to score. He knows how to pump in the points and is confident in his delivery. If you are looking for sleepers on the southside of Atlanta, Mays fits the mold. He has a good history of keeping scorekeepers busy.
Kohl Roberts, C, Riverwood - The long-armed 6-foot-6 post continues to shine at our Preview series as a capable rebounder. He's speeding up his game and improving his productivity in his vertical game. Roberts will always play hard on the glass and has improved his offensive attack.
Anthony Showell, SG, Duluth - Crafty. That was the way his camp coach called his game. Hard to argue there. The 6-foot-2 guard showed off his offensive skills throughout the day. He can score in a variety of ways, and like most guards at camp, he does his best work when he's attacking the basket. Overall, it was a good day of work for the Gwinnett County guard.
Juniors Lane Foster, Will Jerrell, Jalen Jordan, Derric Patton and Christian Turner were featured in our top performers report. You can read that full report HERE.