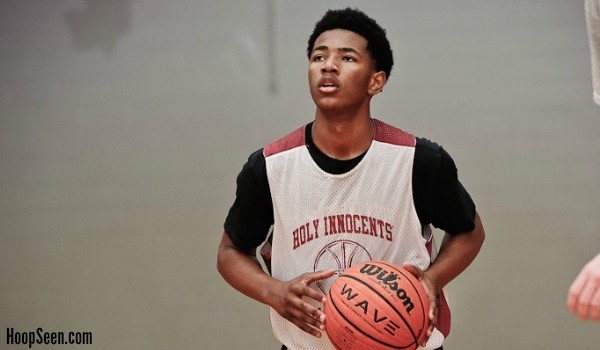 Being a high school freshman comes with a stigma. Freshmen are the new kids on the block; fresh meat who usually still have a childish way about them as they mature through their high school years. Holy Innocents freshman point guard Travis Anderson defies everything about this notion as he is composed both on and off the floor and is not at all afraid of the big stage.
This fearlessness could come from his experience with Georgia United, where he won back-to-back national AAU titles. It could also come from the confidence his teammates bestow upon him.
"They expect me to be a leader, running the point and making the right decisions at the right times," Anderson said.
It's been so far so good for the freshman guard, who has proven himself against some of the best guards in the HoopSeen Fall League as well as the All Metro Hoops Elite 100 camp, which both featured experienced players that have gotten major recognition in their high school careers.
"I don't care," said Anderson about the names he has been going up against. "They put their pants on the same way I do. That doesn't mean that they're better. I just go out and play my game. I can't be scared of my opponent or of the big moment."
Anderson still has a lot to prove, as he has not yet played in a regulation high school game. However, he has all the tools to excel from the get-go. He is a true point guard, who has great court vision and likes to get his teammates involved. When it comes time for him to score, he uses his moves off the bounce to get in the paint and get to the rim or shoot an effective teardrop floater in the lane.
"People expect seniors to excel and expect you to wait your turn. That's just not me," he said about being a freshman player.
Holy Innocents could be one of those teams to watch for as they look to continue their improved play off of a solid year last year. With players like Anderson, it is very possible for the Bears to be a team to look for in AA this year.