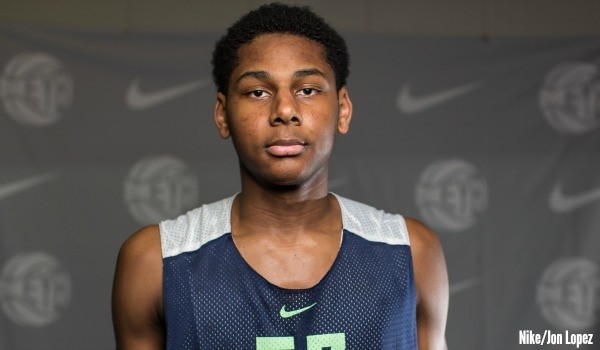 Last Thanksgiving at the Lighthouse Classic in Corinth, 2016 DeSoto (TX) big man Marques Bolden showed he had all the tools to be a high-major big man, but things still needed to come together.
Fast-forward to the midst of AAU season, and, well, things definitely started coming together for the 6-foot-10 center. Not only is Bolden continuing to block shots at a high level, but he is also finishing on the block and expanding his offensive game. This has propelled him to be considered one of the best big men in the Class of 2016.
College coaches have taken notice of Bolden's recent maturation.
"I have offers from Kansas, Miami, Texas, Baylor, Kansas State, Nebraska, Oklahoma, SMU, Texas A&M, Creighton, and Tulsa," he told HoopSeen.com. "Illinois and Pittsburgh offered at the end of the summer, too."
The majority of these schools (and more) have been in to DeSoto recently to check on Bolden and his star-studded team. However, one team may be coming the hardest right now.
"Probably Baylor. I like how close they are as a family, and how they focus on you as a student first and not just an athlete."
Kansas has also earned a lot of talk in Bolden's recruitment. The junior has a number of things he likes about the Jayhawks. Bolden will unofficially visit Kansas for their midnight madness festivities in a few weeks.
"The thing I like about Kansas is that they always develop and teach their bigs. Most colleges try to spread everyone out and use guards and wings."
Despite all of the college interest rolling in, Bolden is very focused on the season ahead. He hopes to help DeSoto get over the hump of where they fell last season.
"I want to finish off what we didn't last year," he explained. "We made it to the state semi-finals and lost last year."
Expect DeSoto to make another run at a state championship in part to Bolden, and his recruitment will continue to soar.