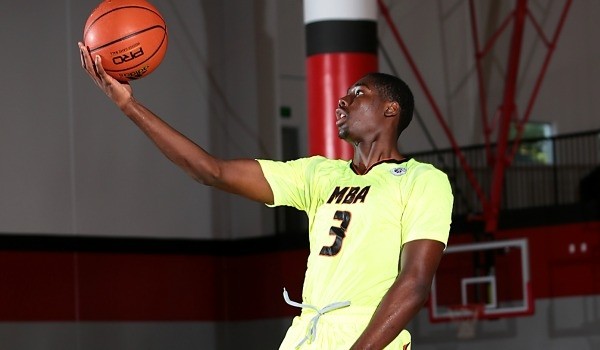 Winston Neal, our in-house coach for HoopSeen.com, was at the adidas Gauntlet event in Orlando, Florida and saw a number of talented players. He breaks down a number of top players from the South at the event for us.
GEORGIA
Stackhouse Elite has a good combination of tough guards that compete in Tobias Howard (North Gwinnett), Ayinde Russell (Mays), and Ahmad Caver (North Gwinnett).   The pickup of 2016 Romello White (Peachtree Ridge) helped them in the post and on the glass in Orlando.   Malik Carter continued to show off his ability to score in the post and step out on the perimeter.   The big man from North Gwinnett is going to be a hot commodity in July for college coaches.  
Everyone knows about Game Elite's HM players but don't overlook the other guys on the team who will be recruited by D1 schools.   Jesse Deloach and Hakeem Anchrum both played well and will get D1 calls.  
LOUISIANA
New Orleans Elite has a trio of young 2016 guards that Division 1 coaches will soon be fighting over in Joshua Singleton, Lamar Peters, and Malik Crowefield.   These young guards have a knack for shooting and scoring the ball.   Look for New Orleans Elite to be a force next year in the Gauntlet with these 3.  
Southern Elite's Mark Vital was one of the top young players in Orlando.   The wing has a great combination of size, athleticism, and scoring ability.  
MISSISSIPPI
MBA Hoops addition of Lamonte Turner (ACD) gives them a HM 1-2 punch when he's teamed with Mario Kegler (ACD/pictured).   MBA also has a couple of good young 2017 players in Murettala Mustafa (Piney Woods) and Terryonte Thomas (New Hope).  
NORTH CAROLINA
Team Loaded NC has a young big man that keeps getting better every time he steps on the court in 2016 Iran Bennett (Bull City Prep).   The big fella is a presence in the paint scoring the ball but showed good athleticism with impressive dunks in Orlando.   The combination of Iran and 2016 HM PG Dennis Smith, Jr (Trinity Christian Academy) means that Team Loaded NC may be the favorite to win the Adidas Gauntlet next year.  
Garner Road always has players and this year is no exception.   Deion Holmes (Chesnee HS) is a guard with the ability to make 3's and score the ball.   Robert Robinson, Jr (Hillside HS) is another shooter that stretches the floor for them.   Rutgers commit, Austin Burnette, also played well for Garner Road showing off a touch from 3.
TENNESSEE
Arguably the toughest player in the Gauntlet is Malik Hicks (Memphis Magic).  Playing hard on both ends of the floor is an underrated trait that college coach's appreciate and Malik brings it every time he steps on the court.   He doesn't look for calls or complain, he just finishes thru contact and gets to the next play.  
VIRGINIA
The Maker brothers are normally the players getting the most publicity (and rightfully so) for Team Loaded VA but Kentrell Barkley made people take notice of his play in Orlando.   The lefty from Northern Durham HS was active slashing to the basket and finishing plays.   Pressing college programs would be wise to evaluate this young man in July.