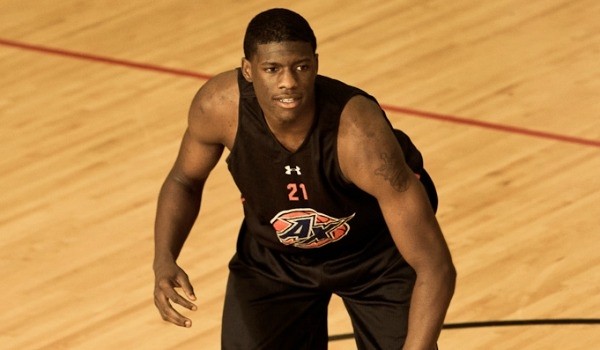 The historic Bob Gibbons Tournament took place at Suwannee Sports Academy and for basketball junkies, this was the place to be.  Shoe affiliations were thrown out the window this weekend.   It didn't matter what you were wearing, the only thing that mattered was if you could play.  
The tournament style setting added extra intensity to the games which amped the atmosphere and competition up.  Players and coaches didn't leave the gym after their games ended.  It was standing room only on a lot of courts with coaches and players trying to scout their next opponent to gain an edge. Overall, it was a fun and productive weekend of basketball for the fans, players, coaches, and scouts. 
Top Players I saw at Gibbons:  
Antonio Blakeney (E1T1) – he's a scoring highlight machine.   This young man scores the ball from all levels:  at the rim, mid-range, and from 3.   His multiple dunks were impressive but it's his knack for putting the ball in the basket that makes him unique.   He's easily a Top 25 talent and lists offers from Florida, Louisville, Kansas, FSU, USC, LSU, Memphis, Providence, and UNC.   In fact the only two HM programs that haven't offered are Duke and Kentucky.   The young man is still wide open in his recruiting, so those two still have time to put their names in the hat.  
Malik Beasley (Ga Stars) – he's starting to make the jump to an elite scorer.   Malik has always been a talented scorer but he's started to turn things up a notch.   The only thing that stopped the young man from putting the ball in the basket was taking the SAT Saturday morning.   The HM programs and recruiting experts are starting to take notice of this young man.   He listed 9 new offers after the open evaluation period last weekend and after the way he scored it this weekend, I would expect more offers and his stock to continue to rise.   I believe the recruiting "trickle down" effect will soon come into play with this young man as the elite programs that lose out on the Blakeney sweepstakes will jump into the Beasley sweepstakes.  
Trevon Scott (South GA Kings) – He's the sleeper in the state of Georgia but it won't take long for the SEC programs to realize this young man's talent.   He's a skilled combo forward that constantly produces when he's on the court.   He can score around the basket, defend, rebound, and makes his teammate's better.   He plays under control and always seems to make the right play.   Without him, the Kings don't go nearly as far as they did this weekend.   He lists offers from UGA, George Mason, Clemson, FAU, Cincinnati, UAB, Alabama, and UTC.   I would expect the word to get out on this young man quickly and more offers to flow in.  
John Collins (Florida Flash) – let the hype begin now.   JC was a relative unknown for most people coming into the Bob Gibbons Tournament but he's now the "hot" name.   After his play at Bob Gibbons, there will be a lot of HM programs calling this young man.   The big fella is young for his class but plays like a veteran.   He never seems to be in a rush but when he gets the ball in the post, he's got the footwork, savvy, and skill around the basket to score or get fouled.   Throw in handles and the ability to make the 15 ft jumper and you can see why the big boys are going to love his game.   He lists offers from Miami, Maryland, Kansas State, and ECU with interest from Syracuse and Florida but I would expect that list to grow.   He's a very good student from a well-known academic school, so I could see the HM academic schools (Stanford, Cal, Vandy, GT) getting involved quickly.  
Danjel Purifoy (ATL Xpress/pictured) – this young man is such a talented player and a mismatch waiting to happen.   He combines a college ready body with handles and explosiveness.   He showed off glimpses of his mid-range pull-up this weekend and the more his perimeter jumpers fall, the tougher he will become to guard.   The Tuscaloosa native is going to be in high demand this summer, his top 7 include Maryland, Michigan, UGA, Auburn, Minnesota, Alabama, and Wichita State.  
Noah Dickerson (GA Stars) – the young man isn't flashy, he just gets the job done.   Rebounding, scoring in the paint, and battling down low, you know what you are getting from Noah every time out.   The highlight plays may not be there to wow you, but when he steps on a college campus you can put him down for 10/6 every night.   That may not excite the casual fan but trust me when I say that college coaches appreciate consistent producers.   He's going to make a college coach very happy for four years.  
Deng Adel (Florida Elite) – the length, skill set, and work ethic are very apparent with this young man.   As good as this Deng is, he's just going to keep getting better.   HM programs that press or play pressure defense are going to fall in love with his game.   HM programs that value length and shooting touch are going to recruit him hard.   Add it all up and I would suspect that there is going to be a wide range of schools coming at this young man hard by the end of July.  
Tacko Fall (E1T1) – He's a very large young man (+7ft, +250lbs) and he barely has to jump to dunk the ball.   Tacko's name was on every casual fan's lips over the weekend because of the unique plays he made.   "Game Changer" is a term I don't use loosely but Tacko does just that.   When he steps on the court he changes how the opponents play the game.   Opposing guards stop attacking the basket and start settling for jumpers.   Opposing bigs trot back on defense rather than try to go to the Offensive Glass.   Defensively, coaches change their entire game plan to help their "undersized" bigs guard Tacko.   Understand that he's by no means a finished product but he runs the floor well, has decent hands, and when he catches the ball around the basket he doesn't bring it down.   One knock a scout made on him was that he only rebounds his area.   That is correct but his area is 4 times bigger than the average player, so let's factor that into the evaluation too.   He already has offers from UTEP and La Salle, but a lot of college coaches are going to brush the big fella off because of his unique game.   However, there are going to be some that realize the value Tacko brings to their program and recruit him.    If there are any questions on whether D1 programs should recruit him or not, I suggest evaluating how UC Irvine did this past season with their unique big fella manning the paint and you will have your answer. 
Winston Neal spent the last nine years as an assistant coach at Jacksonville University. He also coached at Southern Cal and Loyola Marymount. He played four years at Georgia Tech. You can reach him at coachwneal@gmail.com.