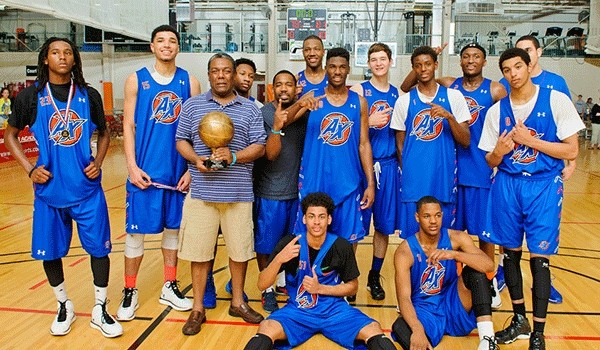 SUWANEE, GA – As a collective unit it is hard to point out any one particular person individual on the Atlanta Xpress who made a solid impact. They are a team and it showed up at just about the most important time of the weekend.
The Xpress made a comeback late in the game before capturing the Norman Parker Showcase 16U championship 81-78 over the Georgia Stars Elite team at Suwanee Sports Academy on Sunday. This title was the teams first of the travel season and in true team fashion did not pick one particular player as the Most Valuable. The Xpress decided it was a team effort.
Atlanta trailed 45-36 at halftime. They were on their heels and it looked like things were not going to get much better in the second half. The Stars made a push an had a significant lead. It looked like the title was going to the Stars.
The Xpress had other plans. D'Marcus Simmons started going to the basket and put pressure on the Stars defense. Chris Lewis was punishing the undersized Stars inside. Marquez Callaway was being his relentless on ball defender late in the game. Combined all those efforts with the hot hand of DJ Russell, you can see there is a team. Atlanta tied the game in regulation 76-76 before the final production in overtime.
Russell finished with a team-high 27 points. Simmons added 16 points. Callaway chipped in with 14 points.
The Stars started out strong behind the scoring prowess of Quintez Cephus. He knocked down five first-half three-pointers and was a part of the teams early first-half lead. He didn't get as many opportunities in the second half but his teammates picked up the pieces. O'Showen Williams orchestrated the offense through most of the game. However, the Stars Achilles heel in the second half was free throw shooting as it was 12-for-25, which could have helped seal the game in regulation.
Cephus finished with a game-high 29 points. Williams had 11 points. Raquan Wilkins added nine points, while Brandon Robinson chipped in with eight.