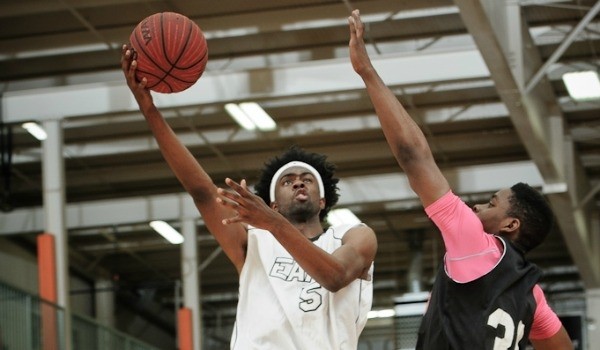 A college recruiter is always looking to evaluate prospects as early as possible so out of shear habit I was constantly trying to catch as many 15U and 16U games as possible this weekend. There is no denying the talent level in Georgia for the class of 2015 where I could see 12-15 players going to HM schools this year. However, one could make the argument that the real talent lies in the Freshman and Sophomore classes of Georgia. The volume of talent in Georgia for both the 15U and 16U classes is going to be impressive. 
My Top Youngsters at the Norman Parker Showcase:
MJ Walker (ATL Xpress) – This young man may be the best player in his class for the state of Georgia, which says a lot.   What says more is that he starts for the Xpress 17U team and may be the best player on the team.   He already has a mature body and can bully smaller guards to the rim but he has the ability to step out and make teams pay from the perimeter.   He will have all the Elite HM programs courting him for many years to come.  
Cameron Jordan (Game Elite 16U) – Smooth scoring guard, that can score off the bounce with ease.   He was really impressive the times I saw him play.   How he develops this year will determine the level he will get recruited.  
Kentavious Jones (ATL Xpress 15U) – at 6'8"/250lbs the young man demands your attention when he walks onto the court.   He towers over his age group and everyone keeps waiting for Nick Saban to appear and offer the young man a scholarship to play football at Alabama.   This young man from Macon, Ga will have every ACC, SEC, Big East, and Big Ten coach in his gym to evaluate him before his high school career is finished.  
Brandon Robinson (Georgia Stars 16U) – remember the line about the benefits of adding a coach's son to a college program?   It applies with this young man too.   With length, athleticism, and skill this young will make a college coach very happy one day.  
Everyone on the ATL Xpress 16U team.  - Loaded is the one word used to describe this team.   How many 16U AAU teams can say they have 10-12 legitimate D1 prospects?   Subbing 5 guys in at the same time is easy when all 5 are Division 1 prospects.   Credit Coach Jordan and Coach Darby for putting together a deep and talented team.   They will have every level of college recruiters evaluating them this spring and summer.  
Darius Perry (Game Elite 17U) – you wouldn't know that this young man is younger than his teammates by his level of play.   He's a good player with a good stroke who will have HM coaches monitoring his development throughout his high school career.  
Obiagu Ikechukwu and Victor Enoh (Georgia Stars 15U) – the Greenforest boys will have all the HM coaches following their every move.   Both bring a length and athleticism to the court that will turn college coach's heads.   
James Lewis (Georgia Stars 15U) – this young man hasn't finished middle school but may still be the best player on a loaded Stars team.   He is a talented scorer that gets to the rim with ease.  
Davion Thomas (Team EAT 16U/pictured above) – if you haven't heard of this team or this player, get to know them.   HM college coaches will be out to see this young man during the evaluation period.   With length, athleticism and skill, there is a lot to like about this young man's game. 
Winston Neal spent the last nine years as an assistant coach at Jacksonville University. He also coached at Southern Cal and Loyola Marymount. He played four years at Georgia Tech. You can reach him at coachwneal@gmail.com.