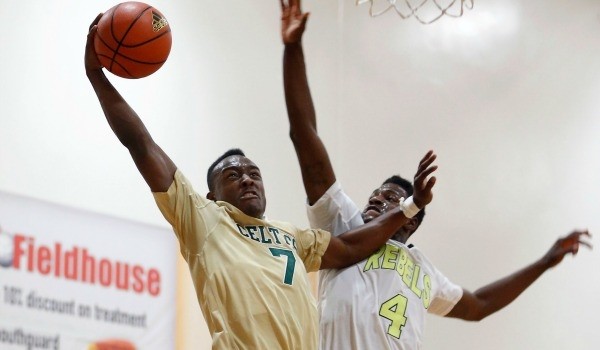 Our in-house coach - Winston Neal - was in Dallas for the adidas Gauntlet and saw some of the top young prospects in the country in action. We start with the class of 2016. Here's coach Neal's top sophomores from the Lone Star State.
Thon Maker (Team Loaded, VA) – He's already an Elite big man and he hasn't started his junior year in high school.   He's got the length, athleticism, skill, and aggressiveness to be an instant impact guy at the college level and give himself a chance to play at the highest level.
Braxton Blackwell (ATL Celtics) – one of the 2016 "Big 3" for the ATL Celtics.   Talented wing with size and handles.   Definite HM player who will have all the Elite Programs following his development.  
Josh Langford (ATL Celtics) – another member of the 2016 "Big 3" for the Celtics.   This athletic guard may end up being the best of the bunch with his ability to attack the rim and finish thru contact.   He is by no means a finished product but as his jumper improves, his stock will sky rocket.  
Kobi Simmons (ATL Celtics) – the final member of the 2016 "Big 3".   This young guard is at his best attacking the basket.   He has the ability to create for himself and for his teammates.   Expect his offer list to grow as he learns the PG position and his game develops.
Loren Jackson (Florida Elite) – this young PG started multiple games for a very talented Florida Elite team over the weekend which speaks volumes about his talent.   He has put himself on college coach's radars with his jumper and bball IQ.  
Keon Clergot (Florida Elite) – this young guard from Auburndale HS has a knack for scoring the ball.   As his game develops, his offer list will grow.  
Anthony Murphy (Indiana Elite) – he's a talented wing that MM should be recruiting and HM should be tracking.  
Koch Bar (Indiana Elite) – this talented big man will have multiple HM programs recruiting and offering him by the end of the summer.
Nai Carlisle (Indiana Elite) – this strong PG impressed coach's over the weekend.   Teams needing a PG in the 2016 class should start recruiting this young man early.  
Tucker Blackwell (Indiana Elite) – the shooter from Bloomington can really stroke it.   Expect his recruiting to grow the more coaches see him during the July period.  
Mark Vital (Southern Elite) – This young wing from Lake Charles has a chance to be really good.   He has a strong body and showed the ability to make plays against older players.  
Marc Style (Taylored Athletes) – the athletic big has a great frame and is already filling out nicely.   He's still learning the game and developing his skills but expect D1 programs to monitor his development over the next year.  
Collin Smith (Taylored Athletes) – the big fella from Jacksonville had his moments.   A good academic student, he showed touch with his jump hook and made jumpers out to 15ft.  
Quentin Jackson. Jr. (Team Loaded) – this talented young guard is smooth with the ball, creates off the bounce, and has a good stroke from the perimeter.   He will have multiple D1 offers when it's all said and done.  
Curtis Jones (Team Loaded, VA) and Jeremy Carter-Sheppard (Team Loaded) – two young guards with the ability to shoot the ball.   Expect multiple levels of college coaches to track their development.  
Deon Barrett (TX Select) – the young PG showed good toughness over the weekend.   He has a good stroke and had no problem playing against the older players. 
Winston Neal spent the last nine years as an assistant coach at Jacksonville University. He also coached at Southern Cal and Loyola Marymount. He played four years at Georgia Tech. You can reach him at coachwneal@gmail.com.