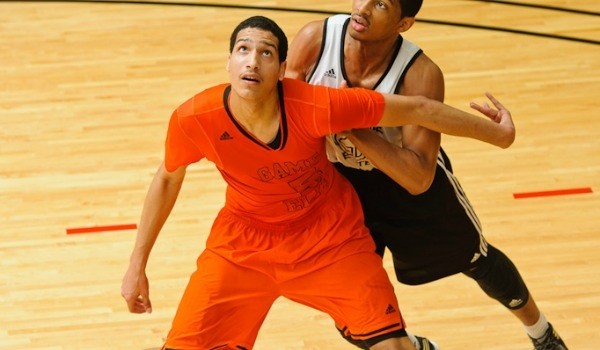 DALLAS, TEXAS -- College coaches of all levels were treated to competitive games at the adidas Gauntlet over the weekend.  From future NBA lottery picks to LM players trying to earn a D1 scholarship, there was something for everyone to see in Duncanville. 
Player's moving up Team's Boards this weekend:
Donovan Hale (Florida Elite) – The Athletic Guard is talented, plays hard, rebounds his position, and creates his own shot.   He is a star on the football field but his best route is college basketball.   HM programs looking for guards will want to evaluate him.  
Devon Andrews (OBC) – The versatile guard was fun to watch over the weekend.   He does a little bit of everything while playing all 3 guard positions.   Programs that value versatility will want to reach out to Coach Duncan of OBC for more information on this young man.  
Eric Turner (Florida Elite) – Strong wing player is a productive player defending, rebounding, and slashing to the rim.   A-10 and MM+ programs will have to fight off the HM programs for this talented young man.  
Deron Davis (Colorado Hawks) – Big Body, Undersized Post Player will have MM+ schools recruiting him hard but it would not surprise me to see a HM offer.   He's physical and productive when he steps on the court.  
Malik Carter (Stackhouse Elite) – the big fella consistently made jumpers over the weekend to go along with his rugged play around the rim.   If he continues to show the touch from the perimeter while controlling the paint, his offer list will continue to grow.  
Tahjai Teague (Eric Gordon Central Stars) –This long lefty with a smooth stroke caught coach's attention by making big shots this weekend.   Missouri Valley and Horizon League schools will want to reach out to this young man.  
John Carlos Reyes (Game Elite) – Athletic Big Man was productive around the rim blocking shots, rebounding, and finishing plays with dunks.   SEC and ACC schools in need of a big will be calling him.  
Marcus Sheffield (Game Elite) – known as a shooter, this young man showed his ability to get to the rim this weekend.   Elite Academic programs were on hand to see this scholar-athlete.  
Isaiah Maurice (Team Loaded, NC) – The long, athletic perimeter 4 man played well finishing around the rim with dunks and stepping out making 3's.   Big South, Sun Belt, and So Con schools have already offered but there will be more offers on the way.
Malik Hicks (Memphis Magic) – He's an athletic wing who's always in attack mode.   This young man was fun to watch the way he competed and attacked the basket.   Programs looking for big, active wings should call this young man immediately.
Howard Thomas (New Orleans Elite) – Undersized big with a thick frame was aggressive around the rim and on the boards over the weekend.   Sun Belt and Conference USA teams will want to take a look at this bruiser.  
Jalon Miller (TX Select Elite) – this athletic Forward did a little bit of everything from slashing to the basket, posting up, making 3's, and crashing the glass.   HM programs in need of a versatile forward should be calling this young man.  
Cullen Vanleer (Gateway) – He's a combo guard that can really stroke the ball.   Smart, tough, and gritty, there is a lot for college coaches to like about this young man.   OVC and Missouri Valley teams are going to have to fight off A-10 or higher schools for this young man. 
Winston Neal spent the last nine years as an assistant coach at Jacksonville University. He also coached at Southern Cal and Loyola Marymount. He played four years at Georgia Tech. You can reach him at coachwneal@gmail.com.