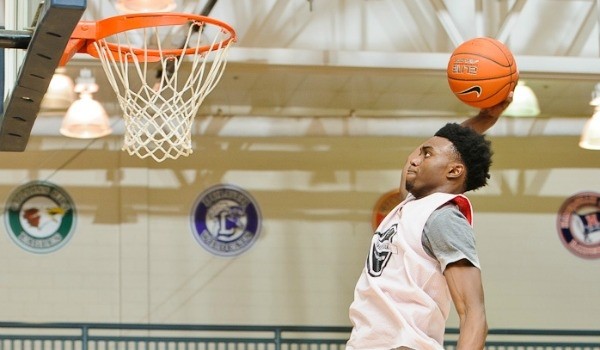 Georgia's 2015 class has fantastic star power at the top of the class, rich depth in the middle and the rest of the class is hungry to compete moving into the competitive spring travel season. This class is loaded with talent from top to bottom. That bodes well for the months ahead.
CLICK HERE FOR THE UPDATED TOP 30 RANKINGS FOR GEORGIA'S 2015 CLASS
Jaylen Brown remains atop the class of 2015 rankings. He had a stellar junior year at Wheeler High School, proved himself once again at The Elite Preview and enters the spring travel season as the highest ranked player from the Peach State since Kentavious Caldwell-Pope.
Size is a storyline in 2015, too. For years, recruiters have come to Georgia to find some of the best big men in the nation. The junior class has a number of talented post players. Look no further than Doral Moore of Luella and Daniel Giddens of Wheeler. Both are nationally recruited prospects.
We were months ahead of the curve with Moore and pegged him as the state's second best prospect long before USA Basketball and the national pundits came knocking. It will be fun to see his growth moving forward in 2015.
Giddens has all of the physical attributes to be one of the nation's premiere paint defenders. He'll roll with the talented E1T1 team on the EYBL circuit this year.
Making the jump
Malik Beasley (St. Francis) makes a substaintial jump to No. 4 overall in the rankings. The Class A Private state champ is as complete of a guard as there is in Georgia and has grown a couple of inches since his last go round on the travel circuit. We believe in what awaits him in April and ahead.
Pebblebrook point guard Ty Hudson has been great every time he's stepped onto the court in 2014 and enters the travel season riding high. He jumps from 20 to 6 overall in our updated rankings. Expect his recruitment to explode over the next month.
Welcome to the show
There are eight new players in the updated class of 2015 Georgia rankings. Pebblebrook center Derek Ogbeide makes the biggest debut, checking in at No. 12 overall in the list. The Canadian move-in made significant improvements over the high school season and helped the Falcons make it to the AAAAAA Final Four. He'll suit up with the Southern Stampede on the travel circuit.
Coming off a dazzling performance at The Elite Preview, Stockbridge wing Darius Alexander checks in at No. 14. Alexander will play for the Georgia Stars Elite team. So will Courtney Alexander of Whitefield Academy. The bouncy forward helped the Wolfpack enjoy a great run in the uber-talented Class A Private division of the GHSA.
Remember the name Devantae Cacok of Alpharetta HS. The 6-foot-6 high-flyer is a terrific rebounder and a star above the rim. Cacok checks in at No. 18 overall in the Georgia 2015 rankings. Montae Glenn, a strong-bodied, soft-hands big man from Carrollton, debuts at No. 20 overall. He had a terrific junior season in West Georgia.  Glenn and Cacok make up a nice 1-2 punch for the Atlanta All-Stars.
Malik Carter, North Gwinnett's pick and pop big man, debuts at No. 25 and will be with the Stackhouse Elite team again this travel season. Justin Ravenel of Greenforest comes in a No. 27 and Don Coleman of Butler debuts at No. 29 overall.
Off the board
Only two players have already committed to a school. Athens Christian guard Will Jackson has pledged to the National Champions at UConn while AAA state champ Tookie Brown is headed to Mississippi State.
Where the national sites have Georgia players ranked
Jaylen Brown - No. 9 overall
Doral Moore - No. 22
Daniel Giddens - No. 41
Will Jackson - No. 43
Marcus Sheffield - No. 73
Jaylen Brown - No. 11
Doral Moore - No. 16
Daniel Giddens - No. 26
Will Jackson - No. 48
Marcus Sheffield - No. 87
Kaiser Gates - No. 94
Shawntrez Davis - No. 109
Malik Beasley - No. 137
Jaylen Brown - No. 13
Doral Moore - No. 21
Daniel Giddens - No. 34

247  Sports

Jaylen Brown - No. 6
Daniel Giddens - No. 14
Doral Moore - No. 25
Will Jackson - No. 32
Kaiser Gates - No. 59
Marcus Sheffield - No. 80
Shawntrez Davis - No. 123
Tookie Brown - No. 125
Kejuan Johnson - No. 137
Tobias Howard - No. 153
Malik Beasley - No. 170
Bryce Brown - No. 171
(*Please note we only rank players from Georgia that attend Georgia high schools. Players such as Noah Dickerson [Montverde], Dante Scott [IMG Academy], Damon Wilson [Our Savior New American] and Reggie Reid [Elev8 Academy] are not listed in this ranking.)
We will update the rankings After the Nike Memorial Day Classic at the end of May.