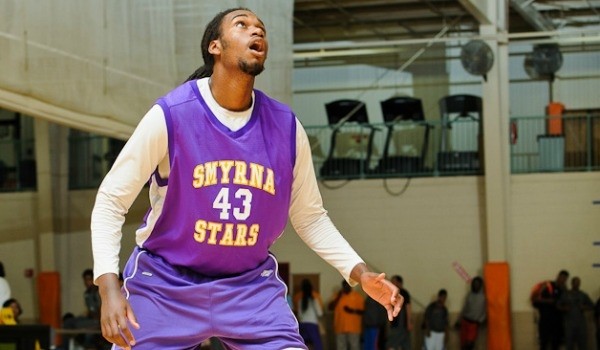 Our in-house evaluator has spent over the last 10 years on the sideline as a college coach. At the Norman Parker Showcase, Winston Neal was on the sidelines for HoopSeen.com to catch the action. We asked him to unveil his top players and top surprises.
Here's more from his list of players for college coaches to watch as we move into the spring evaluation period.
Darius Williams (Georgia Stars) – with Malik Beasley at the prom and Will Jackson out with a knee injury, this young man stepped up against Game Elite Saturday night scoring 27pts for the Stars.   Coaches that covet scoring Point Guards need to be all over this young man.  
Josh Coleman (Georgia Stars) – post players with good grades are in high demand.   This young man plays hard and is not afraid to throw his body around.   I would expect multiple levels of college coaches to recruit this young man hard.  
Jarred Heard (Georgia Stars) – the back-up PG for the stars is going to get multiple D1 offers.   He does not mind doing the dirty work defensively and will stick his nose into the trees for rebounds.  
Trey Kalina (ATL Xpress) – OVC and Atlantic Sun coaches will want to evaluate this big man.   The big fella isn't a finished product but his size will intrigue college coaches.  
Justin Ravenal (ATL Xpress) – this combo guard comes off the bench for the Xpress but he consistently produces.   He plays hard and always finds ways to be productive on the court.   Expect Big South, So-Con, and A-Sun coaches to call on this young man.  
Ayinde Russell (Stackhouse Elite) – the combo guard was productive in every game he played.   He plays on a very good AAU team and if he keeps putting up solid numbers he will garner multiple D1 offers.  
Conard Watson (Smyrna Stars/pictured above) – Gary Graham always has players.   The Smyrna Stars program has consistently turned out D1 players year after year and they are back at it again this spring.   Conard is the latest post player that will be playing D1 ball soon.   The big man can step out and make jumpers while rebounding his position.   Expect a MM recruiting war for this young man's services if he continues to play like he did at NPS.  
LaParris Hall and Gary McCrae (Smyrna Stars) – these two South Georgia products will find themselves being evaluated by D1 schools.   They both bring athleticism and aggressiveness to the court.  
Josh Culver (Southern Stampede) – The Berkmar product had his moments over the weekend.   He's got length that will intrigue coaches.   I would expect A-Sun, Big South, and So-Con coaches to evaluate him this spring and summer.  
Connor Ferrell (Stackhouse Elite) – Shooter, shooter, shooter.   If the last name Ferrell sounds familiar, check the Georgia Tech record books and you'll find his dad's name.   MM schools looking for a shooter with size will want to call on this Rockdale County product. 
Winston Neal spent the last nine years as an assistant coach at Jacksonville University. He also coached at Southern Cal and Loyola Marymount. He played four years at Georgia Tech. You can reach him at coachwneal@gmail.com.